Excursions in Dresden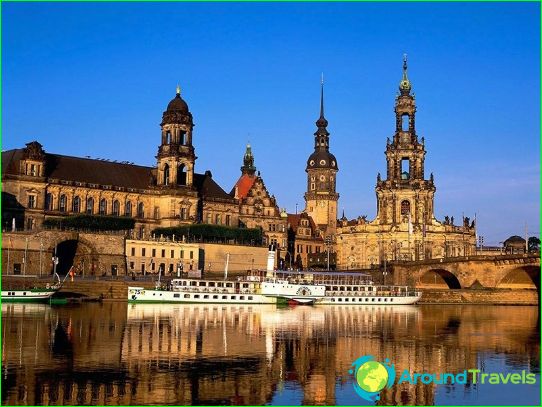 Dresden is interesting and attractive for visitors with its unique architectural structures, rich history and culture. There are so many things in the city that even a simple listing of attractions would take more than one page. And if this is your first time in this city, it will be very interesting to visit excursions in Dresden. You will have the opportunity to visit ancient castles, armory, visit the unique architectural complex Zwinger, made in the Baroque style.
In the vicinity of the city, in its most picturesque places, there are fortresses and castles that came to us from the Middle Ages. They are in excellent condition and viewing them gives a lot of pleasure to tourists. Visiting these castles, it is so easy to travel back several centuries and feel like a beautiful lady or a brave knight!
Dresden's original museums
Dresden has very original and one-of-a-kind museums that are worth visiting when exploring this city on the Elbe:
Hygiene Museum;
Clay Museum;
Transport Museum.
In each of them you will learn a lot of interesting and simply unique. In the transport museum, for example, old locomotives, carriages, and the first trams will appear before your eyes. None of this is simply not found in today's life ...
Sightseeing excursions
Sightseeing tours in Dresden are organized for every taste. Want to know more about the history of this city? Then you better sign up for a guided tour of the historic part of Dresden. After all, the residence of the kings and electors of Saxony was located here. Acquaintance with the city begins from Teatralnaya Square, where the most beautiful cathedral is located, the author of which is the architect Gaetano Chiaveri. During the excursion, it is proposed to visit the Stables yard, where the knights' tournaments were held. You will also see what a gorgeous palace August the Strong built for his beloved Countess Kozel.
Excursions will be offered to your attention «Saxon Switzerland», «Dresden - the capital of Saxony», «Dresden and Moritzburg Castle» and many others. And what is only a sightseeing tour «Old masters», where you can enjoy paintings by famous artists in the famous gallery of this city. Here are collected unique masterpieces of the 15-18 centuries. The Renaissance masters created their paintings using various mythological or biblical subjects. Therefore, it is not surprising that many of them are allegorical, filled with a secret meaning that is not always clear to the viewer, who is simply not prepared to watch them. You will touch the beautiful and learn a lot of new things for yourself, for example, about «Sistine Madonna» Raphael or «Sleeping Venus» Giorgione, «Shokoladnitsa» Lyotard et al.
Any excursion around Dresden is a journey into the world of beauty and a lot of impressions!
City Travel Dresden

Photos of excursions in Dresden