Where to eat in Dresden?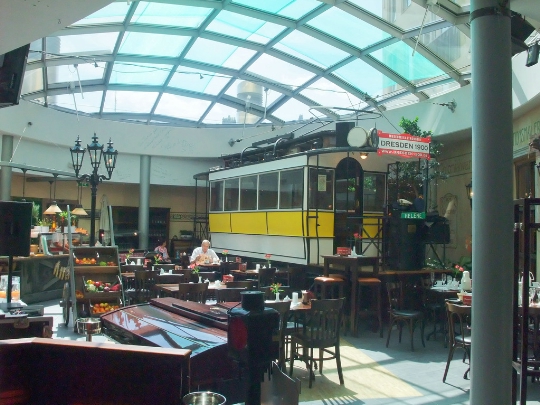 "Where to eat in Dresden?" Is a topical question for travelers planning to visit this German city. Guests of the city will be able to spend time both in establishments offering national dishes and in Turkish, French, Spanish and other restaurants..
If your goal is to visit fashionable gastronomic establishments, look for them in the Neustadt area. In authentic establishments, you will be offered to try Saxon cuisine - roast beef (meat is marinated in vinegar and spices), potato soup, veal chops, dumplings with red cabbage, soup with morels and crayfish, quarkkaulchen cottage cheese.
Where to eat in Dresden inexpensively?
You can eat on a budget at the Durum Kebab Haus fast food establishment. You can also order cheap takeaway food here. You can eat relatively inexpensively by visiting the Turkish restaurant Sofra: here most of the dishes are prepared right in front of the guests. Here it is worth trying lamb barbecue and oriental sweets, as well as enjoying Turkish music and watching belly dancing.
Where to eat in Dresden delicious?

Kahnaletto: in this restaurant, in addition to national cuisine, you can taste Italian dishes - pizza, fruit desserts, various types of pasta.
Alte Meister: In this authentic restaurant it is advisable to treat yourself to fried shrimps with chicory salad, tomato ragout, chicken breast with cheese, raw beef sliced ​​with sauce and salad ...
Ayers Rocs: This restaurant serves both Australian culinary delights (kangaroo steaks, ostrich stew) and European cuisine (grilled veal, asparagus with chicken breasts).
Bellotto: it is advisable to visit this restaurant for lovers of Italian cuisine - here they can enjoy fried scallops with quail eggs, spinach soup with truffle cream, pickled salmon with asparagus, monkfish medallions.
Paulaner's am Taschenberg: This restaurant in the Old Town specializes in Bavarian (be sure to try the boiled veal sausage) and European cuisine. In addition, the establishment offers a wide selection of beers..

Food tours in Dresden
Beer lovers can go on a beer tour, which involves immersion in the historical excursion of brewing - at the seminars they will be told about the technology of production of unfiltered beer and invited to participate in the brewing process. In addition, the tour participants will have the opportunity to taste the factory-bottled beer sold in bio-shops..
On vacation in Dresden, you will come across palaces, villas, churches, museums, many establishments offering national cuisine.
Photos