Shops and shopping malls in Munich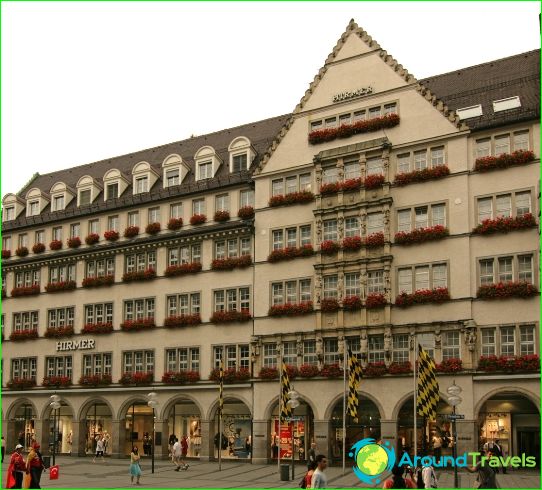 The Bavarian capital attracts those shopping tourists who can easily part with obscenely large sums. Countless department stores and world-class boutiques are open all days a week, except Sunday from 9 am to 8 pm. On Sundays and holidays, you can try to buy urgently needed things, for example, at the station store, but it is better to stock up on everything you need in advance.
Popular retail outlets

Kaufingerstrasse and Neuhauserstrasse are relatively inexpensive pedestrianized streets in the center of Munich. The streets are the longest and the shops are countless. It is crowded here and a lot of time is spent queuing for the fitting room. However, a stroll through the city center is necessary to admire the neighboring post-war buildings and architecture of old Bavaria, as well as to taste local dishes. But remember: seasoned Munich shopaholics still advise you to stay away from the city center..
The six-story Hirmer department store, which is entirely dominated by men's fashion, deserves special mention. The store is located in a beautiful building, it is especially beautiful in summer, each window opening is decorated with flowerpots with flowers. Elegant men can choose outfits for work, leisure or more special occasions like weddings. The purchased clothes, if necessary, can be easily adjusted to the figure in the workshop on the 4th floor. The relatively inexpensive clothes are sold on the underground floor. The most pretentious is the 4th floor. Plus size clothes are sold on the fifth floor.
Galeria Kaufhof is a large shopping center on Marienplatz. During the Christmas holidays, its windows come to life with moving fairy-tale characters and turn into a real attraction. Making your way to shop windows or to the department store itself with Christmas discounts becomes difficult. As expected, here you can find clothes, footwear accessories, electronics for the whole family and for every wallet. If you are looking not for a one-day, but for a quality suit, then you too are here.
Sendlingerstrasse is a quieter street. It also starts from Marienplatz. Here you can buy interesting gifts and souvenirs, as well as visit boutiques, although not super-famous brands, but which do not lose their elegance and originality..
Marienplatz is famous for its Christmas market. Its opening is held by the burgomaster himself on the last Friday of November. The bazaar lasts until Christmas. What can we say about the choice of gifts here for the most beloved holiday - the choice is huge.
PEP - Shopping arcade Perlacher. Located in the eastern district of Neuperlach, easily accessible by metro. The department store is popular with local and local residents. Therefore, there are especially a lot of all kinds of cafeterias and restaurants with a varied menu. Additional services are not lagging behind: a photo studio, ateliers, pharmacies, banks, beauty salons. Fashion shows and exhibitions are often held here..
More interesting shopping malls: Riem Arcaden at the metro station. Messestadt-West Olympia and Einkaufszentrum at the metro station of the same name.
Ingolstad Village is a country outlet. Located 50 min. drive from Munich. You can get there by car or a special Shopping Express bus. The streets of the stylized shopping village have everything for comfortable shopping - hotels, restaurants. In the surrounding area, you can admire the well-groomed rural landscapes, historic castles, and visit the breweries. The outlet positions discounts up to 60% on clothes of world brands.
Photos of Munich shops