What to do in Munich?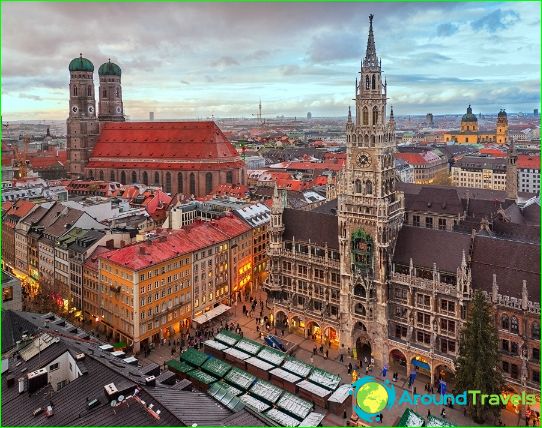 Munich is famous for its breweries, museums and galleries that store the works of the great masters of Europe in the 18th-19th centuries.
What to do in Munich?

Admire the New Town Hall and the Old Town Hall at Marienplatz, in the heart of the city;
Visit three popular Pinakothek - Old, New and Modern Art;
Visit a quiet, picturesque area of ​​Munich - the Prater Island on the Isar River (there is a park, paths, original bridges, various buildings, a museum of the Alps);
Visit the BMW Museum;
Go and see the famous Neuschwanstein Castle.
What to do in Munich?
Acquaintance with Munich should start from the central square of the city of Marienplatz - there are shops, souvenir shops, restaurants. In addition, street performances and concerts are often held here. Walking along Marienplatz, you can see the Old and New Town Halls.
When getting to know Munich, it is worth visiting the Cathedral of the Virgin Mary: if you wish, you can go up to the observation deck to admire the view of Munich and the Alps. For the same purpose, you can climb the observation deck of the old Peterskirche church (its dome is made in the form of a lantern).
You should definitely visit the best park in the city - Hofgarten: on the one hand, the park is surrounded by the Munich Residence, on the other - by the German Museum, and in the center of the park is the Temple of Diana.
By visiting the Munich Zoo, you can see animals living in an environment that is as close to natural as possible. The entire zoo is conventionally divided into 15 zones (Africa, Europe, Australia, polar zone). In the zone of young animals, children will be able to feed young goats and lambs, and in the zone "Dracula's Villa" - look at the bats living here. On the territory of the zoo there are benches, recreation areas, fast foods.
You should definitely go with children to the Alpamare water park: here you can swim in indoor and outdoor thermal pools, as well as relax in the pool, where the beach and artificial waves are built (it will appeal to surfers). And thrill-seekers can come off on one of five tracks (speed - up to 50 km / h, incline - 92%).
Shopping lovers should go to the streets of Maximilianstrasse, Neuhauserstrasse, Kaufingerstrasse - here you can find both shops with affordable prices and expensive boutiques of famous brands.
Munich is a large city in Germany, resting in which you can see many interesting and interesting places, admire the wonderful nature, take part in large-scale festivals such as Oktoberfest.
Photos of where to go in Munich