Athens in 1 day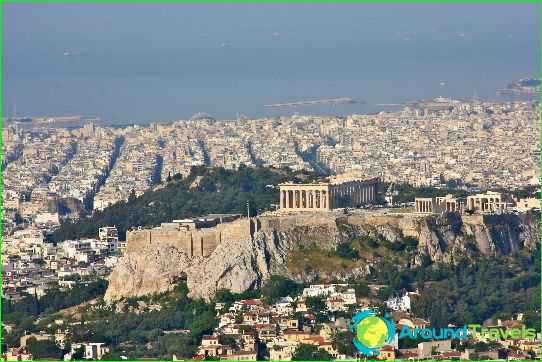 Athens only confirms the famous saying that Greece has everything. It is best to visit the capital of ancient Hellas and explore the legendary ruins and unique monuments with feeling and sense, but even an option  «Athens in 1 day» can be quite viable if you get creative with the process.
Acropolis and its values
If fate has given only one day in the capital of Greece, you shouldn't be scattered about trifles. In such a situation, it is important to prioritize and determine the direction in which to move. The most important landmark of the city is the famous Acropolis, which is a hill with many ancient ruins. Archaeologists believe that the first buildings on the hill appeared in the 5th century BC, when not only majestic temples appeared here, but also magnificent sculptural compositions.
Today the main building of the Acropolis is the Parthenon. The ancient Greek temple was first seen by the inhabitants of Athens in the 440s BC. It was dedicated to the goddess Athena, after whom the Greek capital itself is named. The statue of Athena adorns the Acropolis and is located northwest of the Parthenon. Other attractions in the Acropolis include:
The Dionysus Theater is an ancient building that belongs to the list of the most ancient theaters on the planet. Built no later than the 5th century before the new millennium. Emperor Nero performed here, and Hadrian, who was a great admirer of Greek culture, spent time here in his own marble bed..
The Odeon of Herodes Atticus is an ancient theater on the southern slope, built by a famous Greek orator in honor of his late wife. Rebuilt in the middle of the last century, the Odeon serves as the site for the Athens Festival. Once in Athens for one day during this period, you can hear the best opera soloists or enjoy the ballet of the Bolshoi Theater..
The Niki Apteros Temple is a graceful structure in the southwest of the hill on a small rocky ledge. The temple is dedicated to the Victorious Athena and is made of magnificent white marble. Once inside it stood the famous statue of a goddess holding a golden helmet.
Hecatompedon - the oldest temple in honor of Athena, which was the predecessor of the Parthenon erected a century earlier.
Greek style dinner
End the excursion «Athens in 1 day» best of all in one of the Greek restaurants, where you have the chance to taste the signature salad in its authentic performance, washed down with excellent local wine. The hospitality of the Greeks knows no boundaries, the average portion in any cafe can pleasantly surprise you with its size, and the charm of the waiters and their desire to make the meal pleasant in all respects adds another plus to the karma of ancient Athens..
Around the World - Greece: Athens

Photos