Where to eat in Athens?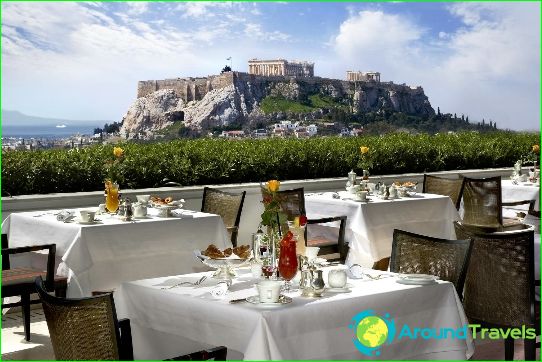 Are you planning to go on vacation to the capital of Greece? Surely you will be interested in where to eat in Athens. The city is filled with cafes, taverns and restaurants.
If you decide to try Athenian and Greek dishes, then authentic establishments will offer you to taste stuffed grape leaves, fried squid, shrimp, octopus, meatballs, pastitsio (lamb or goat meat with tomatoes and pasta), paidakia (goat or mutton cutlets (round koumades), deep-fried donuts with honey and cinnamon).
Where to eat in Athens inexpensively?
High-quality service, average prices, authentic cuisine awaits you in the restaurants in the Plaka area in the center of Athens. You can have an inexpensive snack in traditional eateries, where you can order souvlaki - kebabs with pita and lemon slices. Quite inexpensively and quickly, you can grab a bite to eat in tiropitadiko - establishments that serve tyropites - puff pies with spinach, cheese and other fillings.
Where to eat in Athens delicious?

Vyzantino: Specializing in Greek cuisine, this restaurant offers both indoor and outdoor seating. Here it is recommended to treat yourself to fried potatoes with tzatziki sauce, veal with eggplant, pie stuffed with spinach and goat cheese, fried cod with garlic sauce.
Mystic Pizza & Pasta: This restaurant is suitable for those who like a healthy lifestyle (this place is smoke-free, hemp seeds are added to the dishes containing healthy amino acids and proteins, and the dishes are prepared with organic products). Here you can taste typical Italian dishes - pizza, pasta, risotto, fresh salads, desserts ...
Gregory's & Coffeeright: In addition to expresso and cappuccino, this cafe offers ancient Greek coffee (brewed in hot ash), herbal tea with Greek saffron, and coffee-based soft drinks. In addition, there is a wide selection of snacks in the form of pies, panini, baguettes, vegetable and fruit salads, various types of cheese..
Brettos: in this restaurant you will be invited to sit on wicker chairs at a marble table so that you can enjoy traditional Greek cuisine, as well as national alcoholic drinks and more than 30 types of liqueurs.
Lalloudes: while relaxing in this restaurant, you can admire the sea views from here and taste the dishes of Greek and Italian cuisine - moussaki with cheese, pasta, Greek kandaifi pie.

Gastronomic excursions in Athens
On a gastronomic city tour you will visit "taste corners" the historic center, try traditional dishes there, coffee, wine, sweets.
In Athens, you can admire the city, climb the Lycabetus hill, see historical sights, visit numerous museums, enjoy Greek cuisine.
Photos