Athens in 3 days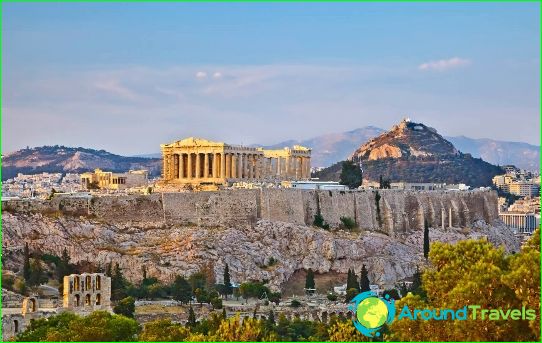 The Greek capital is not in vain considered one of the most amazing cities on the planet. Cradle of ancient civilization, Athens can provide such an abundance of tourist information in 3 days that only a well-trained traveler can handle..
Antiquities and values
The main Athenian attraction is the rocky hill Acropolis, where magnificent buildings of the Mycenaean period appeared already in the 15th century BC. Wars swept over Ancient Greece and burned down magnificent temples. In their place, new ones arose, and the Acropolis became the focus of the past and new greatness of civilizations replacing each other..
Today, many important and significant ruins of ancient buildings have survived on the Athenian Acropolis. Here you can visit the Parthenon and the Theater of Dionysus, see the statue of Athena Promachos and admire the temple of Niki Apterom. Many relics resemble only a pile of stones, but this does not lose the grandeur of the monument and the significance of the Acropolis does not diminish..
We go on a museum tour
The capital of Greece is also rich in numerous museum exhibitions, visiting which you can get acquainted with various aspects of the history and life of the state. In total, there are more than two hundred museums in the city, and it is simply unrealistic to inspect each of them in such a short time. Once in Athens for 3 days, it is best to choose the most interesting and significant ones for yourself:
The National Archaeological Museum is a unique collection of interesting finds made by scientists during excavations in Greece. 20 thousand exhibits make the collection of this museum one of the richest in the world.
Acropolis Museum - repository of artifacts collected on the territory of the famous hill for several centuries.
Museum of Greek Folk Musical Instruments - located near the Roman agora. He invites you to familiarize yourself with a lovingly collected collection of rare and quite common local instruments. The glory of the creation of the museum belongs to the Athenian musicologist, and the oldest exhibit dates back to the middle of the 18th century..
The National Historical Museum of Greece is an excellent opportunity to get acquainted with the history of the country and learn about the most significant periods of the formation and development of Athens in 3 days. The museum contains personal belongings of many famous historical characters, ancient weapons, traditional national costumes and ancient manuscripts.
Around the World - Greece: Athens

Photos