Airport in Athens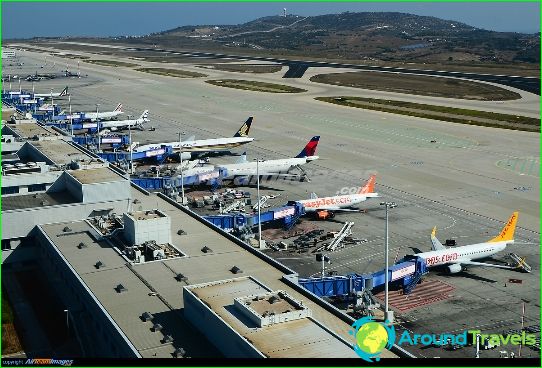 The international airport of the capital of Greece is located 20 km from the city, in the city center of the Attica region. The name of the airport was given in honor of the President of Greece Eleftherios Venizelos, who in the 30s of the last century made a significant contribution to the development of the country's aviation.
The airport in Athens has two runways that can accommodate all types of ships, including the largest airliner, the Airbus A380..
More than 16 million people are served here annually. Every year the airport is increasingly used as a hub in Southeast and East Asia.
Terminals
The airport has two terminals, one of them is considered the main one, and the second is satellite. The main terminal serves exclusively internal Schengen flights. Accordingly, the Satellite Terminal serves flights departing outside the Schengen area..
Services
The airport in Athens is renowned for its investment in technology, so the quality of service is top notch here. Upon arrival, a modern and technically equipped building awaits passengers.
In the terminal, passengers can find numerous shops, cafes and restaurants.
Friendly staff will help you solve any problem you might have.
Children were not left without attention, special play rooms are equipped for them..
Of course, passengers will be able to use the services of banks, post office, lockers, etc..
Transport
As mentioned above, the airport is located 20 km from Athens. But, despite this distance, the transport connection with the city is well established:
Taxi is the most expensive, fastest and most comfortable way to get to the city. Taxi cars are hard to miss - they are located at the exit from the airport building. The price of the trip will be about 30 euros.
Buses. There are six buses departing from the airport. They work around the clock, so getting to the city by bus will also not be difficult. The ticket price is around 5 euros.
Metro. Athens is connected to the airport by a metro line, the interval is 30 minutes. Departures start at 6:30 am and end at 11:30 pm. The ticket price will be 8 euros. Do not forget to validate the ticket after purchase, as a serious fine of 50 euros will be imposed for violation.
Athens airport photos