Holidays in Athens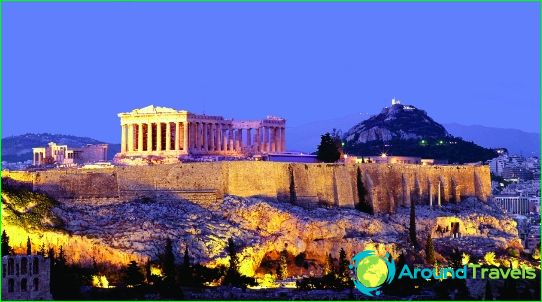 Holidays in Athens means exploring historical sights and visiting museums, relaxing on excellent beaches, making bargain purchases, the opportunity to plunge into the world of entertainment..
The main types of recreation in Athens

Sightseeing: going on an excursion tour, you will see the Acropolis and the Parthenon, the Art Gallery - Pinakothek, the temple of the goddess Nike, the Olympic stadium, the Erechtheion temple, the Theater of Dionysus, visit the Penteli cave, visit the Archaeological Museum. For nature lovers, excursions to the Attica Zoological Park are organized. If you decide to go on an excursion "Athens by night", you will climb Lycabettus hill to admire the city at night, and also try Greek cuisine in one of the taverns, where they will play bouzouki and dance national dances for you. And those who go on a shopping tour will visit fur salons - "Naomi", "Avanti", "Alexandros", "Jean mare".
Active: vacationers can watch light and music performances from the Pnyx Hill (they are held every day after 22:00 from April to October), come off in nightclubs "Island", "Gyalino plus", "Gubanita havana", go karting, frolic on carousels and various attractions at Adventure Park and Allou Fun amusement parks.
Event-driven: everyone will be able to visit the Athens Festival "Epidaurus" (June), "Hellenic Festival" (June), flying kites at the "Katari-Deftera" (March), Greek Independence Day (25 March).
Beachfront: a great place to relax is Alimos Beach: it is equipped with showers, sun loungers, sun umbrellas, water slides, playgrounds. In addition, there are conditions for windsurfing and water skiing. Another good beach is Votsalakia: it offers an outdoor pool, volleyball courts, a tennis court, a cafe..
Prices for tours to Athens
The ideal time to travel to the capital of Greece is April-May, September-October. Before you go to Athens, it should be borne in mind that in the high season (June-August, as well as the period of holidays), the cost of tours to this city increases by 1.5 times. If your plans include purchasing more profitable tours to Athens, head here in November-March. And in order to find the weather comfortable for swimming and at the same time get tours at attractive prices, go on vacation to the Greek capital during the velvet season (September-October).
On a note!
Do not deny yourself the pleasure and stroll through the city at night (in terms of security, Athens is a calm city), in addition, there are many establishments that work around the clock.
If you decide to use a taxi service, keep in mind that prices are among the highest in Greece. And if you try to negotiate with the driver about the fare, and he cannot give the exact amount, it is better to refuse the trip..
Memorable gifts from Athens can be fur and leather products, honey, olive oil, ceramics, local cosmetics.
Around the World - Greece: Athens

Holiday photos in Athens