Athens metro: map, photo, description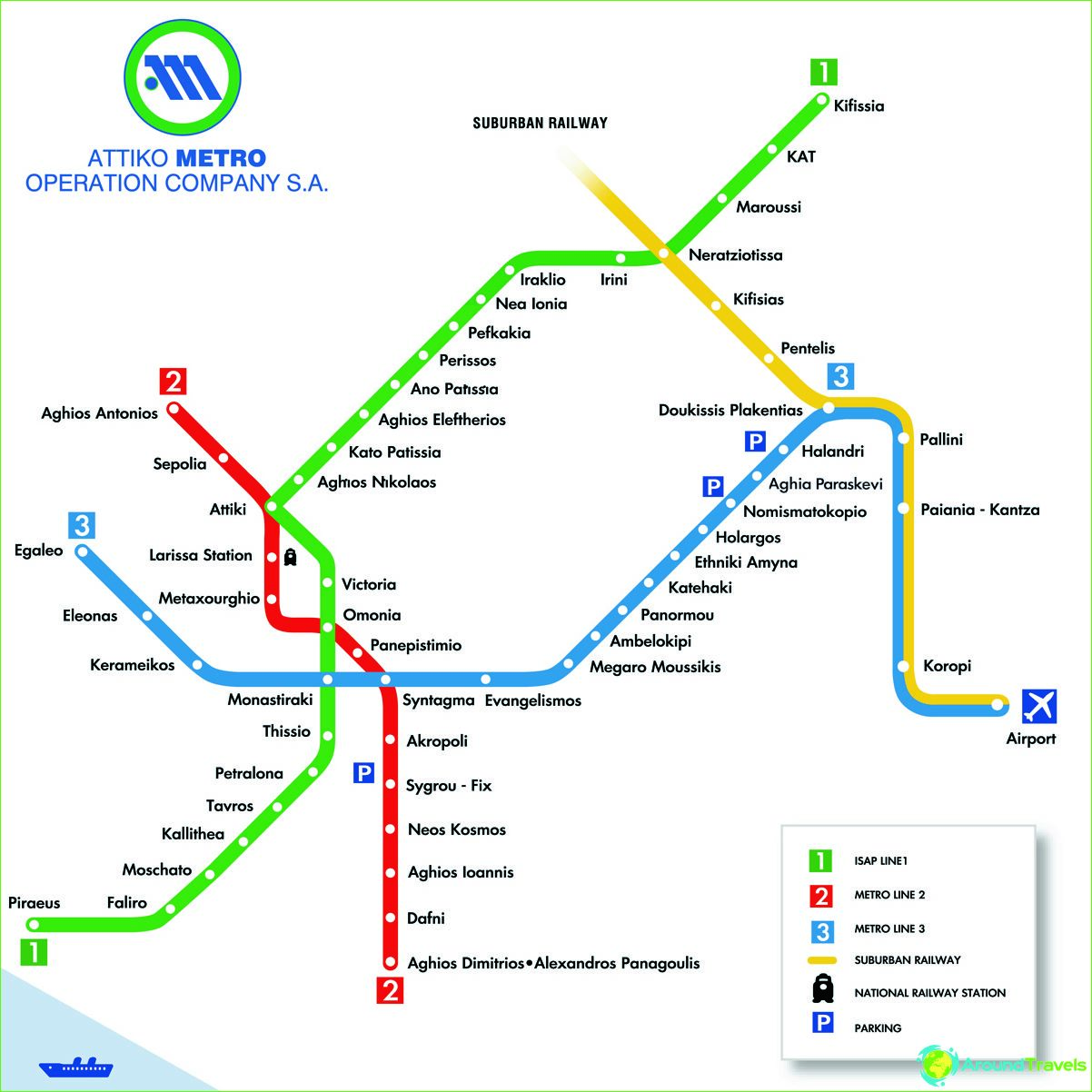 Athens metro map
The Athens Metro is the main type of urban high-speed transport in the Greek capital. The Athens metro system is currently represented by three lines:
Line 1 - green line (24 stations, length 25.7 km) connects the Piraeus region and the northern Kifissia region of Athens, passing through the city center;
Line 2 - red line (14 stations, length - 11.6 km) runs from west to southeast from Agios Antonios station to Agios Dimitrios station;
Line 3 - blue line (20 stations, length - 35 km) runs from south-west to north through the city center from Egaleo station to Dukissis Plakentias station and then continues to the airport.
The first line of the Athens metro was put into operation six years later than London, that is, in 1869, and was a single-track railway, served by a small train driven by a steam locomotive. It was only in 1904 that the line was electrified. Since then, until the beginning of the new millennium, the Athenian metro, which consisted of only one line, was only modernized, but did not expand significantly. A new stage in the development of the Athens metro was the 2004 Summer Olympics in Athens. As part of the program to improve the infrastructure of the city in Athens, two new metro lines were built and put into operation. The first line has been substantially renovated and modernized.
Athens metro tickets
You can buy tickets for the Athens metro at the station entrances. There are daily and weekly tickets on sale, as well as monthly travel maps. You should carefully monitor the validity of the transport card or ticket. Since the fines for unpaid travel are 60 times the cost of a standard ticket. There are vending machines in station lobbies to check tickets.
Purchased tickets for the Athens metro are valid for 90 minutes after the first pass and can be used for multiple trips on different lines and other types of public transport in Athens (buses, trolleybuses, trams, as well as the suburban railway trains between Piraeus, Magula and Koropi to the airport).
During the construction of the tunnels of the Athenian metro, the builders found numerous artifacts of significant interest to scientists and everyone interested in the life of the ancient city. For 6 years, groups of archaeologists worked tirelessly, ahead of the brigade of metro builders, in order to protect, collect and register unique archaeological finds: ancient streets, houses, cemeteries, sanctuaries, foundry pits, forges, aqueducts, wells, cisterns, systems drainage and sewerage - everything that opens up new perspectives in the study of the ancient topography of the city. On the basis of the artifacts found, exhibitions are organized at a number of stations, the most interesting of which are at the stations of Monastiraki and Syntagma Square. Thus, the Athens metro can certainly be called the underground museum of the city, the entrance to which, by the way, is prohibited with drinks and food..
Athens metro video
Author: V Otpusk.ru

Photos of Athens metro