Holidays in Greece in August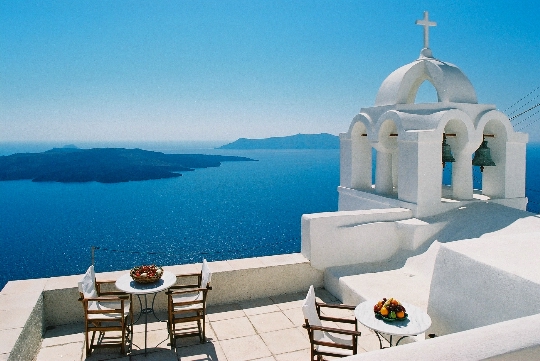 There are many advantages of a holiday in this beautiful and ancient country. It is considered wrong here if a tourist lays on the beach all the time of his vacation, without even looking at the local attractions, or, conversely, travels all over Greece without making a pilgrimage to the turquoise waters and golden beaches..
A vacation in Greece in August for a real tourist should pass in skillful maneuvering between lazy lying on the sea coast and the active development of cultural and historical monuments, acquaintance with the national cuisine and the peculiarities of national shopping..
Weather conditions in Greek August
Compared to the previous month, there are practically no differences, neither in the amount of sun, nor in the absence of saving moisture. The air temperature in August is still at record highs of + 35 ° C (national average), + 26 ° C (water). Therefore, many tourists switch to a night mode of beach recreation, preferring to spend sea swimming in the dark, and take sun baths either in the early morning or closer to sunset..
Climb Olympus
The most famous Greek hill, according to ancient Greek legends, was the dwelling place of the gods and their no less divine companions. Nowadays, almost every tourist can visit this sacred place for many. One has only to find this important tourist attraction somewhere in the middle between Thessaloniki and Halkidiki and go on a hike to the peaks.
Main theater stage
The most important summer playground for theater groups is located in the small village of Epidaurus. From the end of July to the last Saturday of August, festival events take place daily. Once the stage was deeply hidden in the sands of time, and now it is in the epicenter of the theater-goers' attention..
In addition to actually watching various performances, the participants of the festival events have the opportunity to get acquainted with the monuments of history and culture that have survived to this day. Many of them are marked by UNESCO as true works of art.
Greek Assumption
This holiday in honor of the Mother of God is celebrated annually in Greece on August 15 and is officially a day off. Thousands of Orthodox Greeks go to churches for solemn services. An amazing holiday gathers Greek natives from all over the world. Panagia Sumela, a Greek monastery located high in the mountains, gathers thousands of pilgrims on this day, which tourists can also join..
The most beautiful corners of the world - Greece

Holiday photos in Greece