Holidays in Greece in July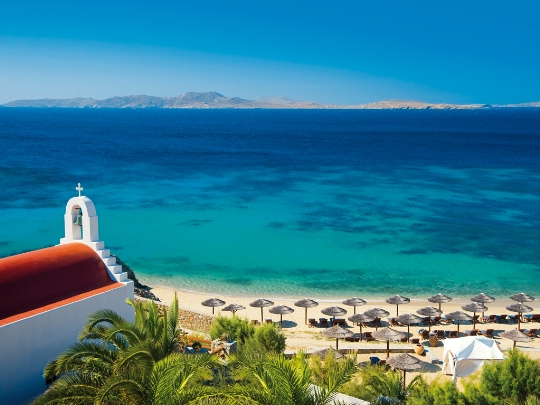 For a long time this country remained out of the attention of tourists from the former countries of the socialist camp due to the rather high prices for vacations. Over the past few years, the convergence of Greek resorts and guests from Eastern European countries has been rapidly going on. The former significantly reduced prices, in this regard, tourists got access to the famous ancient Greek monuments and beautiful beaches.
Travelers who adore the hot sun, clear sea waters and developed beach service can safely choose a vacation in Greece in July. An important point, this is an extremely hot month, so those with health problems are better off choosing later periods to stay here. Moreover, it is hottest on the islands, the capital of Greece in terms of temperature is close to them, but still the climate is milder, the excursion program is larger.
Weather in Greece in July
The specificity is that the height of summer in Greek resorts is characterized by temperature records, which not everyone can withstand. Forecasters claim that the average July figures are + 35 ° C of air, + 26 ° C of water. The lack of rain in such conditions is not a virtue. One joy for vacationers on the sea coast, to climb into the sea and not stick out from there until the evening. Or wait for the sea breeze and happily give him a tanned face.
Hellenic theater festival
For half a century in the city of Epidaurus, this ancient settlement of the Greeks, a theater festival has been held, bringing together professionals of the great art and fans. The countdown of celebrations starts from the last Friday of June, the main events fall on the next two months.
Performances smoothly replace each other, allowing actors from different countries and continents to demonstrate their skills on the ancient Greek stage of Epidaurus. It was once buried under a thick layer of earth and is practically lost to the present day. After the restoration of the stage and the auditorium, the guests of the festival are presented with an amazingly beautiful spectacle. And the actors note the extraordinary acoustics of the hall, which makes it possible to speak almost in a whisper, bringing the meaning of words to the last rows.
The Hellenic festival is interesting not only for theater lovers, but also for connoisseurs of ancient Greek attractions. The mission of the festival, which is held in the homeland of the famous Odysseus, in Ithaca, is about the same mission. Focus on theater combined with music.
Greek folklore festival
A folklore festival begins in Ioannina in mid-July, which also takes more than one week in time. Tourists who are lucky enough to be present at the ethno-festival will be able to hear the voices of antiquity and get acquainted with the true ancient dances of Greece, and not the sirtaki invented by American actors.
The most beautiful corners of the world - Greece

Holiday photos in Greece