Independent travel to Budapest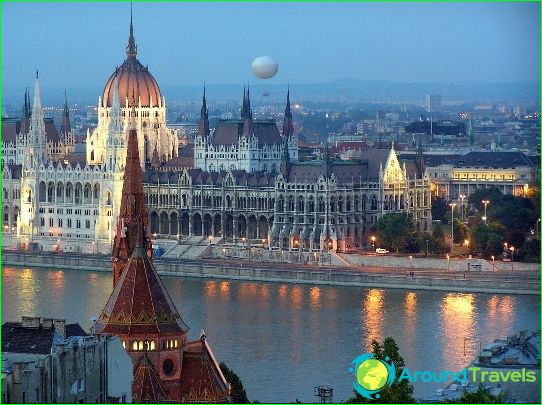 The Hungarian capital is a very attractive city for the independent traveler. A huge number of architectural monuments, museums and cultural sites make it one of the most visited in the Old World. If you add to this list of advantages inexpensive accommodation, excellent cuisine and the opportunity to improve your health at one of the city's thermal springs, it becomes clear why Budapest is becoming the destination in the search for air tickets to Europe..
When to go to Budapest?
The city of seven bridges over the Danube can be a worthy vacation or vacation destination at any time of the year. In winter, you can appreciate the scale of the Christmas markets and festivals, and admire the beautifully decorated squares and streets. Spring Budapest is a city of flowers and warm evenings over the Danube, while the summer heat is softened by the opportunity to visit the baths and spend time under the shadow of the best parks in Europe.
How to get to Budapest?
The international airport is located half an hour from the capital of Hungary. Flight time from Moscow is less than three hours. Travelers get to the city center by bus, minibus or taxi. The last option is the most expensive and not very popular..
For getting around the city, it is best to use the Budapest metro, three lines of which converge in the central area at Deak Square. At night, transport is represented by buses with the letter "E". Most hotels and tourist centers sell cards that not only allow you to save on public transport costs, but also give you the opportunity to visit museums and famous baths for free..
Housing issue
The best option for independent tourists is budget accommodation in Budapest hotels, on the facades of which 3 * flaunts. Such hotels delight with excellent service, full breakfast and attention of the staff..
Argue about tastes
Hungarian cuisine is an important reason for visiting the homeland of operetta. The main "highlight of the program" of any institution, without a doubt, is the famous goulash. Each restaurant or cafe has its own recipe for its preparation, and therefore lovers of Hungarian cuisine can endlessly compare options in different places. On the pedestrian street Vaci, in numerous cafes, in addition to the traditional plate of the searing symbol of Budapest, you can order excellent vegetable masterpieces, and desserts and pastries are best accompanied by a cup of coffee, which in Hungary they not only love, but also know how to prepare.
Photos of the trip to Budapest