Christmas in Budapest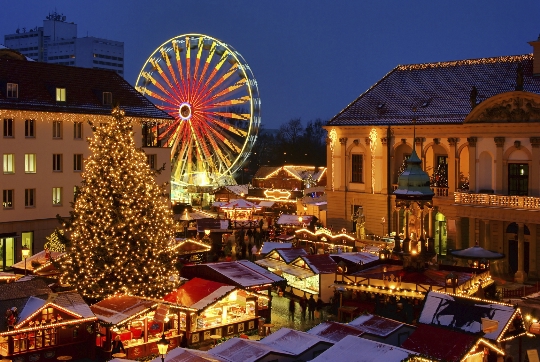 Celebrating Christmas in Budapest, you can plunge into the local healing springs, explore the city, and join the Hungarian traditions.
Features of the celebration of Christmas in Budapest
By the beginning of Advent (4 weeks before Christmas), it is customary to decorate the house with garlands, toys, tinsel, Christmas wreaths. As for the Christmas tree, Hungarians are exclusively engaged in setting up and decorating it on December 24th. At Christmas, Hungarians dress up as a priest and go from house to house with hand-made feeders to pay tribute to the owners of the house through Christmas singing - Kantalash.
Before you sit down at the Christmas table, a prayer is read, after which everyone begins to feast on fish dishes, and from sweet treats - poppy or nut rolls. In addition, garlic in honey and nuts are traditionally displayed on the table. And after dinner, the hostesses, as a rule, cut an apple - the number of parts corresponds to the number of people at the table (a symbol of solidarity).
As for tourists, a Christmas tour of the city can be held for them, followed by dinner at a restaurant. "Laci! Pecsenye".
Entertainment and celebrations in Budapest
If you are interested in Christmas events in the Hungarian capital, then you should take a closer look at the following:
A boat trip along the Danube - a Christmas dinner will be served there and live music will be entertained;
Budapest Gypsy Symphony Orchestra (visitors will be delighted with a festive gala concert, where you can enjoy folk, classical and gypsy music);
Christmas Dance and Song Festival at St. Gellert Square;
Christmas party at St. Stephen's Basilica (hot delicacies and ice skating await visitors).
If you are not averse to spending time in the vicinity of Budapest, you can enjoy opera performances and Christmas concerts on December 7-27 on Christmas days at the Royal Palace in Gödell (there are also excursions for children and other interesting events). In addition, there will be a Christmas ball at the equestrian park "Lazar" in the Domonyveld valley (guests are greeted with a cocktail, and at the end of the event, a gala dinner is served for them).
Christmas markets in Budapest
While vacationing in Budapest, it is recommended to visit the Christmas Fair (held from the end of November to January 1) at Vereshmarty Square (the main Christmas tree is installed here): here you can not only get folk costumes and wooden crafts, but also enjoy fried chestnuts and pastries, as well as attend gastronomic competitions and theatrical performances. In addition, in the heated pavilions, everyone will have the opportunity to create their own Christmas decoration..
Photos