Streets of Budapest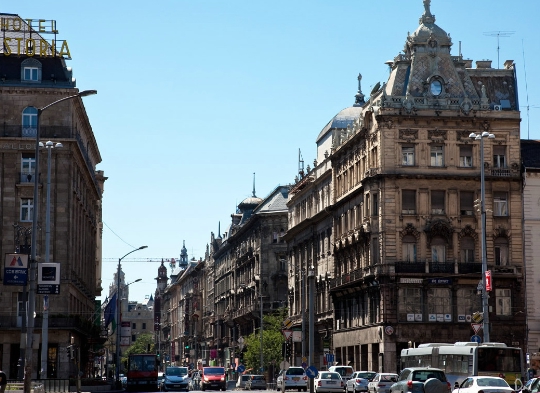 Budapest is one of the European capitals. This is a resort that annually receives numerous guests from different countries. The streets of Budapest began to appear after the connection of the small towns of Pest, Obuda and Buda (1873).
Vaci street
This is the main historical street of the city. It begins with Vörösmarty Square and ends with Fövam Square. Vaci is the main pedestrian street in Budapest. There are beautiful buildings, restaurants, shops, cafes on it. This is the central tourist line, walks along which are included in all excursion programs. Vaci attracts fans of good shopping. There are many boutiques of famous brands here. Historic sites along the street.
The central city artery is divided into two sections, which are separated by the Elisabeth Bridge. The northern part of Vaci is occupied by expensive and fashionable shops, while the southern part is occupied by historical monuments. From the north, the street adjoins the Vörösmarty Square. The most beautiful building of the city is located in this place. The yellow metro line runs along Vaci, considered one of the oldest in Europe.
Big Boulevard
The longest highway in Budapest is the Grand Boulevard. It stretches for 4114 m and has a width of about 45 m. The boulevard consists of five sections, encircling the city several times. Bolshoi Boulevard was built in 1906. It plays an important role in the life of the city, as it connects its different parts.
Ulloy street
It is the longest city thoroughfare. The length of Ulloy Street is 15.6 km. The highway starts in the historic center of Budapest and ends in the suburbs. There are many transport routes along Ulla, including eight metro stations. In different years, the street was called differently. It was called the Red Army Avenue until 1950. Ulloy Street attracts tourists with its historical sites.
Hungarian Boulevard
The largest boulevard in Budapest is considered to be Hungarian. In width, it accommodates up to 10 lanes of the road, its length is 13 km. The boulevard runs through the historic center. On the Hungarian Boulevard, you can see the National Police Building, the Hungarian National Theater, the football stadium. Ferenc Puskas.
The boulevard is young. The planning of this city artery took place at the end of the 20th century. Many of its quarters arose after 2000..
Photos of the streets of Budapest