What to do in Budapest?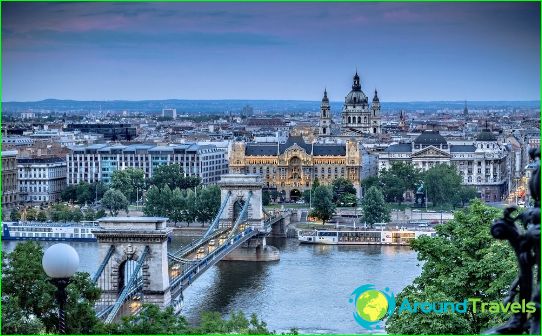 Budapest is one of the most beautiful European cities, famous for museums, historical and cultural sights, bridges, picturesque embankments.
What to do in Budapest?

Visit the Buda Fortress and the museums located here - the National Gallery and the Museum of History (this castle was erected on a fortress hill, next to which there is the Royal Palace and the Fisherman's Bastion);
Visit Margaret Island (there are 2 hotels, restaurants, cafes, a beach "Palatinus", Japanese garden and summer theater, which host theatrical performances);
Climb Mount Gellert, on which a tall statue is installed (the mountain is a large park where all the flora of Budapest is represented) to see the panorama of the city, the Wax Museum, the Citadella fortress, sit in a cafe or restaurant;
See the famous Chain Bridge (it is decorated with beautiful statues of lions, and the railings of the bridge are elaborately ornamented).
What to do in Budapest?
Upon arrival in Budapest, it is advisable to purchase a discount card, thanks to which you can use public transport at a discount, visit museums, amusement parks and other cultural institutions of the city.
To get a closer look at Budapest and easily get to the main attractions, you should use public transport - there are many buses and trolley buses running around the city. If desired, you can rent a car for this purpose. To take advantage of this opportunity, you will be asked to present a Guest Card that will be issued to you at the hotel. In addition, you must be at least 21 years of age..
Nature lovers can go for a walk in the Varoshliget Park. In addition to walking, here you can go to the Botanical Gardens, the Zoo and the Museum of Fine Arts (all located in the park). You can have a great time with your family in the City Park: in summer you can take a boat ride on the lake, and in winter you can go ice skating. Since there is a circus, a zoo and an amusement park nearby, it is imperative to bring children there..
Children should be delighted with a hike to the Karoji Gardens: this park has playgrounds with slides and swings. The whole family should also go to the Water Park: there are swimming pools (wave and surfing pools), slides, children's playgrounds and volleyball courts.
Fans of a noisy nightlife can have fun in the Capella nightclub, which has several bars, dance floors, and VIP rooms. And young people will be able to break away in the Alcatraz club - it is famous for its excellent music, rich entertainment program and an excellent bar where you can taste not only classic, but also signature cocktails from the bartender.
Going on vacation to Budapest, you will get acquainted with its magnificent palaces and temples, you can enjoy its amazing nature, swim in thermal springs (there are 26 baths in Budapest: "Széchenyi", "Kirai", "Gellert").
Photos of where to go in Budapest