Tours to Heviz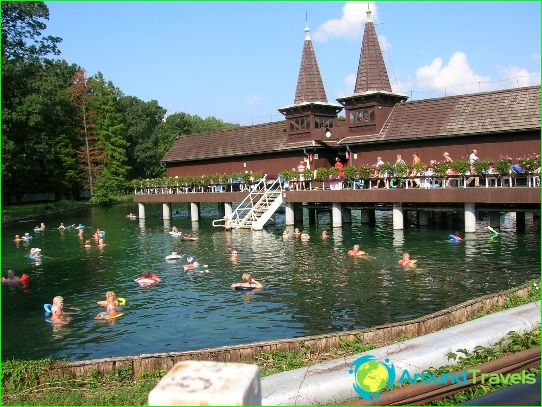 Lake Heviz in Hungary and the town of the same name on its shores are widely known in Europe to fans of thermal pleasures. Hundreds of diseases are cured in the local health resorts, because the waters of the lake contain all the useful elements of the periodic table. Every year, tours to Heviz are booked by thousands of people who want to part with their ailments and just enjoy life at the popular balneological resort.
Natural healer
The most beautiful flower is depicted on the coat of arms of the city of Heviz. This is a water lily brought to Hungary from distant warm India. Hundreds of flowers cover the surface of the lake, the water temperature in which, even in winter, does not drop below +27 degrees.
Lake Heviz is the largest in the Old World with similar healing properties. Its waters are rich in calcium and potassium salts, iodides and fluorides. The lake is renewed almost completely every day, thanks to underground springs.
Participants of tours to Heviz safely heal joint pains of various etiologies and radiculitis, relieve gout inflammation and improve blood circulation. Steam rising above the lake creates a special microclimate and contributes to the improvement of the respiratory system.
Briefly about the important

Tours to Heviz can be combined with a tour of the Hungarian capital. Moreover, the international airport is located in Budapest. The distance from it to Heviz is about 200 kilometers, it will take a little less way from Vienna, where direct flights are also made from Moscow..
Not far from Heviz is the city of Keszthely, which regularly receives trains from Budapest. The six remaining kilometers to Heviz can be overcome by taxi or bus.
The moderate continental climate in the area of ​​the lake ensures mild winters and rather warm summers for the participants of tours to Heviz. In winter it is rarely colder than -5, and in summer it is hotter +27. The water temperature in the lake reaches +27 and +33, respectively.
About two dozen hotels have been opened in the lake area, among which the 3 * and 4 * categories prevail. There are enough restaurants and cafes on the shores of the Hungarian natural health resort so that no guest remains hungry after a healing bath.
For the implementation of the cultural program, the tour participants in Heviz are happy to go on excursions to the Festetics Palace, the 12th century cathedral or the Sümeg Fortress. Near Lake Balaton, next to Heviz, museums of dolls and marzipan were opened and a model of the building of the Budapest Parliament was built from several million shells.
Photos