Wines of Hungary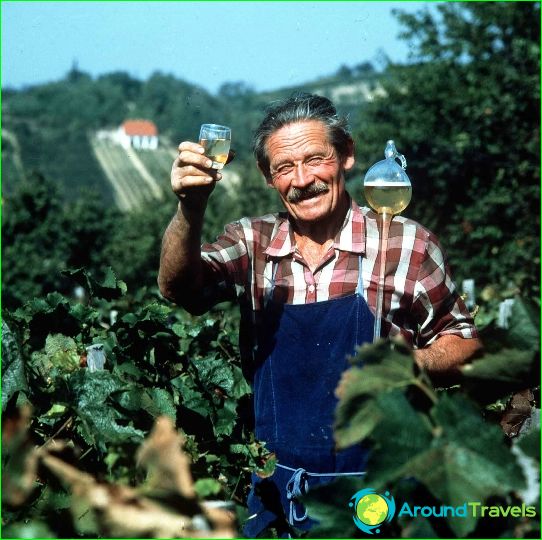 Even a person far from wine has at least once in his life heard of Tokaj wines, whose homeland is in the Tokaj Hills region of Hungary. The area is so unique and the Hungarian wines produced here are perfect and famous that UNESCO had to add the region to the World Heritage List. Tokaj wines in Hungary are real "liquid gold". White dessert drinks are distinguished by a special raisin flavor and honey tones of the bouquet..
History with geography
Winemaking in Hungary, according to historians and archaeologists, is at least two and a half millennia old. It appeared during the reign of the Celts, who were replaced by the ancient Romans in the winemaking field. War and pest epidemics brutally treated the vineyards, but wine in Hungary did not stop producing, despite any obstacles..
There are more than two dozen major wine-growing regions in the country, which are indicated on the wine labels of Hungary. Vineyards are located in the Balaton hills and in the Somlo region, in the Bükka foothills and in Villani.
Have you heard of Furmint?
One of the most important grape varieties in Hungary is called Furmint. It is grown on more than half of the country's vineyard area. The highest quality dry and Tokay wines of Hungary are blended on the basis of Furmint fruits.
Furminta vine is capricious and not resistant to frost, but it gives such fragrant berries that all efforts to grow it pay off handsomely. The special sugar content of Furmint fruits allows them to wither and obtain high-quality dessert Tokay wines.
No less popular in Hungary is the Harshlevelu grape variety, which occupies a third of all plantations. It is grown for the production of light dry wine, a distinctive feature of which is the subtle floral notes of the bouquet..
Reading labels
Hungary has its own national classification for wines. Each wine can be assigned to one of the classes, and all information about its status can be read on the label:
The table wines are called Asztali Bor. They are among the cheapest.
Local wines Taj Bor.
Hungary's fine wines are designated Minőségi Bor
The most expensive premium wines, controlled by origin, bear the designation Különleges minőségű Bor on the label.
Hungarian wines are a great souvenir and gift for friends and family. Gastronomic and wine tours to the country are becoming more and more popular among tourists from Europe and Russia..
Photos