Delhi Tours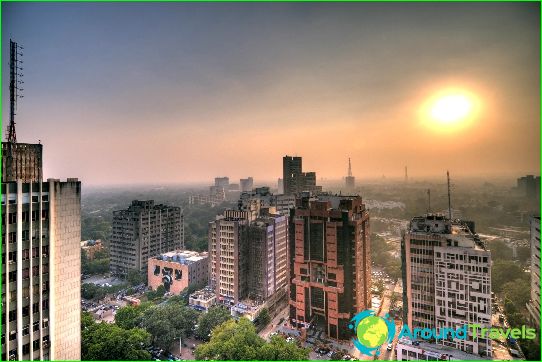 Delhi is the second largest Indian metropolis. New Delhi is located on its territory, which is the political capital of the country. Delhi's population is approaching 12 million, and the diversity of Delhi's cultures, customs and preferences makes the capital of India one of the most unique cities on the planet. When planning tours to Delhi, you should take into account the peculiarities of the climate and mentality of local residents so that the trip will bring only positive impressions..
Briefly about the important
The tropics and monsoon climate make Delhi a city with a very uneven rainfall. The rainy season in the Indian capital is from July to August. Hot summers, when hot air currents from the deserts raise the thermometer to +40, gives way to foggy and cool winters. Nighttime temperatures in January can drop to almost zero.
There is an international airport in the capital, and in order to organize a tour in Delhi, you must book a ticket for a direct or connecting flight. After landing, you can use the convenient Delhi metro or taxi, paying for its services at the counters at the exit.
When choosing a place for a meal in Delhi, it is important to make sure that the sanitary condition of the cafe or restaurant is at a decent level. It is worth buying food from street vendors with great caution - an unprepared European stomach can react quite adequately. In any case, the waiter or food seller should be warned about the desired degree of pungency of the selected dish..
Take part in the celebration
Many compatriots are planning tours to Delhi at times that coincide with Indian holidays or festivals. At such moments, colorful shows and processions take place in the city, in which you can participate:
The Diwali Light Festival in mid-autumn is dedicated to the goddess Lakshmi and symbolizes the victory of good over evil. On Diwali days, fireworks are organized in Delhi and other cities, ritual lamps are lit, and people give each other gifts.
Holi Colors Festival is celebrated in early spring. For two days, residents and tour participants in Delhi shower each other with herbal powders to symbolize protection from disease. These powders have bright colors, and therefore Holi is a very colorful and beautiful holiday..
The Qutub Festival in the capital is a musical performance during which dancers and singers stage performances against the backdrop of the famous architectural monument of Qutub Minar.
Photos