Shopping in Delhi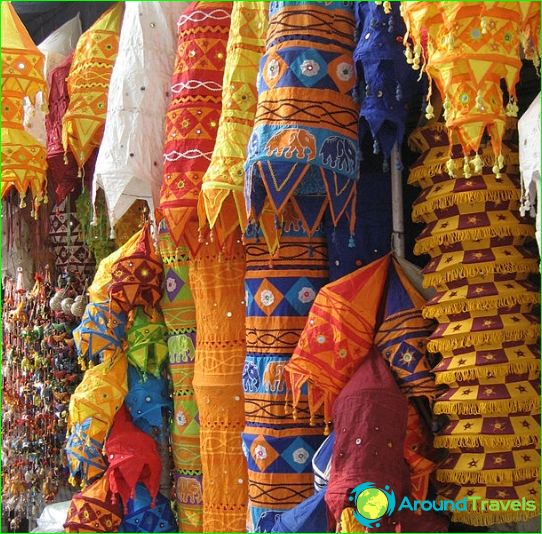 Indian markets are widely known for their color - noisy, filled with different smells and incredible colors. Here you can buy absolutely everything - from all kinds of spices and herbs, coffee, famous Indian tea and ending with gold and silver products, handmade fabrics, shoes, etc. It is worth noting that the best Indian markets are located in Delhi, and it is here that dealers come from the whole country for the goods, then to sell it at exorbitant prices to tourists.
So, what to buy in Delhi, and which of the city's markets are considered the best?
Delhi's main markets
The Main bazaar is one of the most famous and largest bazaars in Delhi. Here you can buy national Indian clothes, or order their tailoring right on the spot (the order is completed within 24 hours), expensive jewelry made of precious metals and stones and cheap fakes, aromatic oils, spices and tobacco, as well as many other goods, the initial prices for which you can safely divide by three and insist on them until the end of the auction with the seller. And then the question - what to bring from Delhi to numerous friends and relatives - will disappear by itself, because such a wide selection of goods in combination with affordable prices is a shopper's paradise. There are also numerous shops and pharmacies with Ayurvedic medicines and herbal cosmetics, which are made right in front of you..
Palika Bazaar is a place where you can buy any electronics, CDs and, of course, clothes and souvenirs. However, keep in mind that the market is indoors and is unbearably stuffy there at noon. Therefore, if you prefer to shop in more «civilized» conditions - go to boutiques at Connaught Place or Ansal Plaza, where shops with original products of many famous world brands are presented. Consider also that it is better to buy woolen products and natural silk in specialized stores, for example, Delhi Haat. Since there are too many chances on the market to purchase synthetics at an incredible price.
What to bring from Delhi on a tight budget?
When you go shopping in one of the markets, you shouldn't worry that you don't have a lot of money left in your pocket. At quite affordable prices, you can buy thousands of knickknacks and goods that will delight both you and your loved ones. For example, incense and spices, ethnic souvenirs, and inexpensive embroidered cotton T-shirts. Either practical flip flops for only 20 rupees, or embroidered leather shoes from 250 rupees. Among tourists, especially from the cold regions of our planet, Tibetan shawls are popular - light, warm and beautiful. Their cost varies between 120-400 rupees, depending on the composition of the fabric and the size. Don't forget the famous Indian tobacco and original ethnic souvenirs.
Pictures of goods in Delhi