Taxi in Goa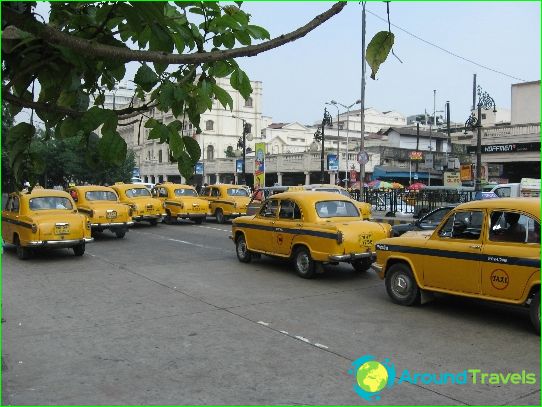 Official taxis in Goa (you can distinguish them by their yellow license plates) are subordinate to the local Ministry of Transport: most cars do not have equipped meters, so tolls are paid at fixed rates..
Taxi services in Goa
Government taxi ranks can be found near bus and train stations. In addition, you can order a car at the hotel or leave an order for a car delivery by calling the taxi company "Goa taxi" by number + 91 832 222 89 89.
Good news for the fair sex - recently, female taxis have appeared in Goa, in which only women can be passengers and drivers..
Goa Moto Taxi
If you have small luggage and you are traveling alone, you can use a motorcycle taxi service. 1 km of path costs 5 rupees on average.
If you wish, you can rent a bike (you can do this, for example, at a hotel) - this service will cost you 200 rupees / day (+ gasoline). In this case, you need to take note of the following: it is important to ride in compliance with the speed limit (no more than 40 km / h), be sure to wear a helmet on your head.
Taxi cost in Goa
No need to guess how much a taxi costs in Goa - check out the current rates:
you will have to pay 10 rupees for a piece of baggage, but waiting, as a rule, is completely free;
the night rate (it starts at 23:00 and ends at 05:00) is 35% higher than the day rate.
Check out the prices for "prepaid" you can take a taxi at the airport (go to the counter "Prepaid Taxi", to order a taxi and pay for the fare right there, at the counter) and at the bus stations of Goa - there, on yellow boards, information with tariffs is posted (from which you will learn about the cost of the trip calculated to certain points).
Often, private taxi drivers deceive tourists by posing as official representatives - they provide transport services at inflated rates (25-30 rupees / 1 km). You can tell whether an official cab driver (a prepaid taxi) is in front of you by the payment method - in this case, you will pay the fare through the ticket office, and the driver will receive a check upon arrival.
If you use the services of a state taxi, then, for example, from Dabolim airport to Don Paula beach you will pay 670 rupees if you sit in a car without air conditioning, and 779 rupees if you sit in an air-conditioned car, and from Dabolim to Cavelossim - 800-920 rupees (the price depends on whether the car has air conditioning or not).
In any case, the fare should be clarified in advance and not pay for the fare until the end of the trip. Important: in local taxis you can pay only in cash and it is advisable to have small bills, as it may be difficult to get change..
Photos of taxi in Goa