Traditional Indian cuisine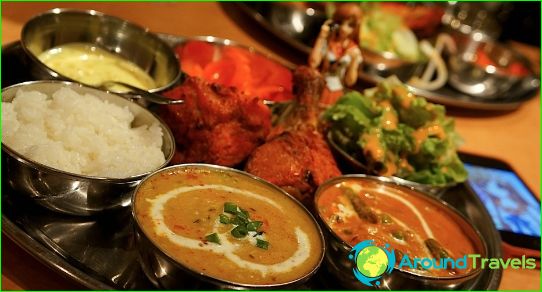 Food in India is characterized by the fact that it is not a problem to find food here - cafes and eateries are open at every step, but you cannot find the usual European food everywhere here (local food, to which many hot spices are added, cannot withstand every stomach). Therefore, in local establishments, it is advisable to ask that you be served a dish without spices..
Food in India
The diet of the Indians is made up of cereals, rice, legumes, vegetables, fruits, yogurt. Most Hindus do not eat meat, but some of them eat poultry, goat and lamb, and coastal residents eat fish and seafood (shrimp, oysters, squid, lobster).
Depending on the region you are visiting, you will find that the cuisine of different Indian regions varies greatly from each other. So, if you bet on North Indian cuisine, you can try kofta (balls of minced meat); rice dishes; tandoori (chicken cooked in a clay pot); kebab (grilled meat), and for dessert - rasmalai (curd balls with condensed milk), jalebi (spiral-shaped pretzel drizzled with sugar syrup).
For South Indian cuisine (based on vegetarian options), it is worth trying idli (rice and lentil pie), dosa (crispy pancakes stuffed with potatoes), sambhar (curry rice).
Where to eat in India? At your service:
bhojanalai and dhaba (these cheap Indian eateries offer simple foods like lentil soup and vegetable curry);
Indian restaurants (they are subdivided into vegetarian and non-vegetarian);
luxury restaurants (here you can enjoy classic Indian dishes of the best quality, so they are very expensive by Indian standards);
tourist restaurants (the cost of dishes in them is quite high, and the quality of products often leaves much to be desired);
places where you can order fast food international cuisine such as burgers (no beef), pizza or bhaji (grilled vegetable pies based on chickpea flour).
Drinks in India
Popular drinks in India are tea (often cardamom and ginger are added to it), coffee, fruit drinks (mango, lemon, apple, guava), sugarcane juice, lassi (this drink is prepared by their whipped curdled milk with the addition of either sugar or salt, or fruit), beer, toddy (palm wine).
Scotch whiskey can be purchased in India (Seagram's Hundred) and Indian rum, the taste of which is quite sweet and peculiar.
Food tour to India
Gastronomic tour to India is a great opportunity to visit exquisite restaurants offering their guests to taste dishes of national cuisine. A true gourmet will surely appreciate meat and vegetarian dishes, which are distinguished by an unexpected combination of flavors and an abundance of spices..
Arriving on vacation in India, you should not buy food from street vendors (they are not familiar with the rules for storing food) - try to eat in establishments preferred by Europeans.
Photos of Indian national dishes