Independently to India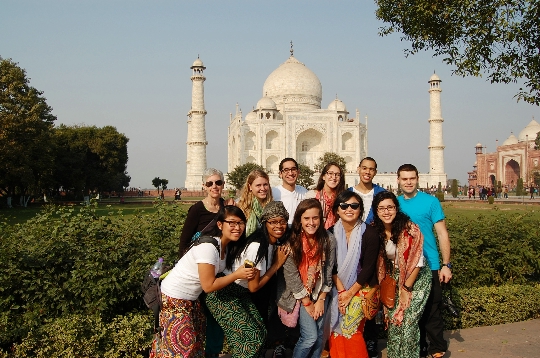 Do you want to get an inexpensive and varied exotic? Then you should go on your own to India, a country where the modern skyscrapers of Mumbai are mixed with the slums of Shantaram, elephants are found on the streets of small cities more often than air-conditioned buses, and the walls of temples sparkle with gems like precious jewelery. India is not a very expensive tourist destination, and the only drawback in the eyes of a traveler is a rather long flight..
Entry formalities
In order to visit India on their own, a Russian citizen needs a visa. It is easy to get it from the TVOA website or from the Indian consulate. By filling out an electronic form, you will have to pay a visa fee, which is $ 40. Confirmation sent by e-mail should be printed and taken on the road.
Rupee and spending
The Indian rupee is the country's only official currency. In exchangers, the most favorable rate is set for euros and dollars, and when performing all transactions, a tourist may be required to have a passport. Going to India on your own, you should have enough cash, because credit cards are accepted here only in large cities and in hotels of famous world chains..
Lunch for two in a cafe will cost 150-300 rupees, depending on the chosen dishes. In a restaurant, this bill can reach Rs 800.
A kilogram of fruit in the markets costs from 6 (watermelons) to 40 (mango) rupees.
The most expensive entrance ticket is to the Taj Mahal, 750 rupees, and you can get to the rest of the temples and sights 2-3 times cheaper.
A cheap hotel with a fan and a private bathroom can cost anywhere from Rs 250 to Rs 500 per night. There is no reason to expect special comfort and cleanliness from such a hotel, and therefore it is worthwhile to budget for accommodation at least 800-1000 rupees daily..
Valuable observations

India is a country where power structures almost constantly work in the mode of preventing a terrorist threat. In this regard, the airports of many cities are allowed only passengers with tickets and no earlier than three hours before the departure of the aircraft. You must have a printout of your e-ticket with you, as well as an entry permit.
By keeping your currency exchange receipt, you can convert unused rupees to dollars or euros at the airport upon departure.
Car rental in India is a very dangerous enterprise, but hiring a local licensed taxi driver and driving such a car to the sights of Agra or Jaipur from Delhi is quite budget.
Trains in India are not very comfortable, the ticket purchase system is rather confusing, and therefore, when traveling long distances, it is easier to use the services of local airlines.
Photos