Tourism in India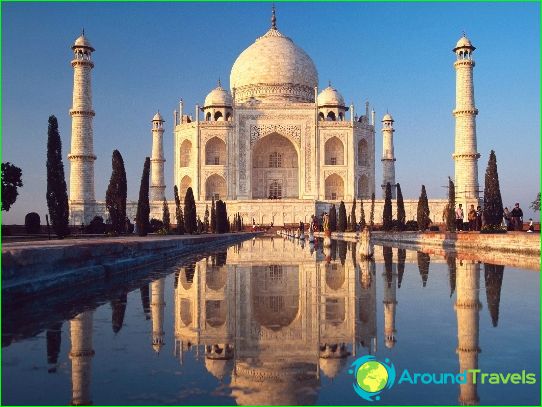 One of the largest and most populous Asian states has long attracted tourists from other countries and continents. Each of the travelers dreams of getting to know India, getting to know it better, discovering the mysterious world of the ancient inhabitants of these blessed territories..
India is great and amazing, strikes with wealth and poverty, ancient traditions and the preservation of caste, an endless paradise strip of beaches and jungle, on the one hand, super-modern cities and technologies, on the other. Tourism in India is one of the highest priority areas that bring considerable revenues to the state..
Roads of India
Given the vast territory that this country occupies, the traveler will have to use different types of transport, including:
plane, if necessary from the north of India to get to the beaches of Goa;
train, if you have the time and desire to see the country at close range;
a bus for those tourists who dream of getting in touch with the exotic for a European, but the usual life of an average Indian.
In large Indian cities and resorts, it is more prudent to use a taxi, this car will save time and nerves. Only the price should be negotiated in advance, so as not to be surprised later, since meters are a relative concept. Another exotic species is motorcycle or cycle rickshaws, which have replaced ordinary rickshaws so popular in Asia..
Safe rest
Staying in India for European tourists is associated with some risk due to ignorance of local laws and traditions. This applies to the female wardrobe for going out into the city and visiting local temple complexes..
Pickpocketing is common, especially in large cities and resorts. Do not provoke thieves by showing all the available wealth of jewelry and money. In a hotel, finances are naturally better kept in a safe.
India - see all
Travel to India brings only positive emotions. Wherever the tourist goes, whatever goals he pursues, amazing discoveries and positive emotions await him. The beaches in the states of Goa and Kerala are recognized as the most beautiful on the planet. Mumbai is full of nightlife, fiery parties, dancing until the morning in the company of wealthy heirs of European famous names.
Fans of wildlife will get acquainted with the rich world of local fauna, first of all, with Indian elephants, many of which live almost as domestic animals. A gastronomic journey is a special adventure into the world of tastes, smells, extraordinary spices and aromas. India is open to the whole world, it remains only to discover it for yourself.
Photos