Shopping in Indonesia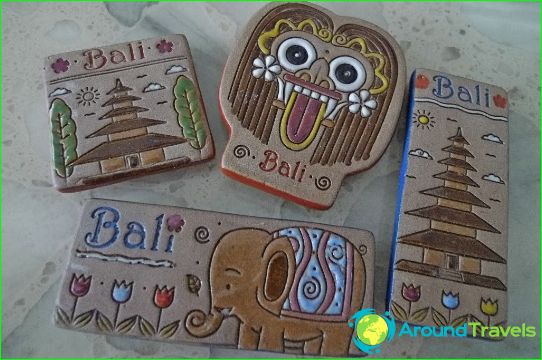 Indonesia is a stunning mix of tradition, cuisine, culture and architecture. Shopping is appropriate here: you can buy absolutely everything - clothes, jewelry, shoes, good copies of designer leather goods.
Popular shopping in Indonesia

Batik is what tourists buy while shopping in Jakarta at the Pasar Beringharjo market, where the entire first floor is allocated for this product..
In boutiques, you can find collections of clothing by Indonesian designers not replicated in Europe. They work under the names Sofie, Kisoon Harto, Poppy Dharsono, Talisa House, Biyan, Ghea and Sebastian's, Ali Charisma, Ferry Sunarto, Herman Nuary, Postour & Co. The only thing «but» - clothing in Indonesia is geared towards locals and is usually small in size. You will have to look for the right size in outlets on the outskirts of Jakarta or in Bali in Ketut's shop on Garlic Lane.
Among local souvenirs, silverware, wood crafts, sisal bags, paintings by local artists, wooden masks, ceramic dishes and ceramic green boxes with golden frogs are popular. Be careful with ebony and sandalwood figurines and rattan furniture - due to the changing climate at home, all this beauty can crack and disintegrate..
In any city you can buy different products from cobra and python skin. Despite the fact that snakeskin wallets, belts, purses and handbags are made in an artisanal way, the quality of the products is simply excellent, because production is established, many local entrepreneurs have been doing this for 20 years. The same can be said about python leather shoes - the price is low, the quality does not differ from those exhibited in boutiques of famous brands. Naturally, you can buy such things in the market or in small shops..
From edible food from Indonesia, you can bring coffee, jasmine tea, jasmine honey. If you are versed in spices, you will be pleased with the choice on the market, there are also many vegetables and exotic fruits.
In order to avoid bargaining for every little thing, visit the Geneva souvenir supermarket in Kuta - here are fixed prices, which will save you time.
Those interested in buying surfing and snorkeling equipment go to Bali Galeria in Kuta, and here you can also find clothes from world brands..
If you go to Citraland Mall, Matahari Plaza, Sri Ratu Mall, Simpang Lima or Java Mall, you will find European brands there at European prices. The cheapest mall where you can buy decent jeans for $ 5 is Malioboro in Jakarta.
Holidays in Indonesia

Photos of Indonesian goods, shops and markets