Islands of Ireland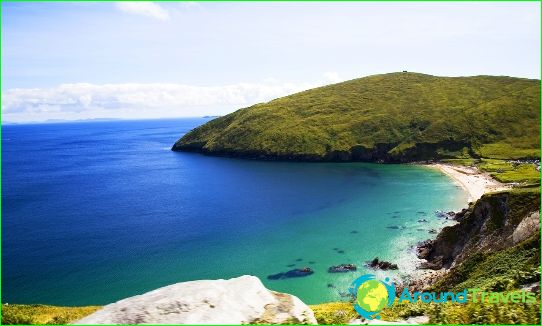 Ireland, located on the island of the same name, is considered an exotic country in Europe. It is slightly smaller in size than islands such as Iceland and Great Britain. Ireland's eastern shores are washed by the Irish Sea, St George's and the North Strait. The Atlantic Ocean washes the island from the north, south and west. The Islands of Ireland are rocky stretches of land adjacent to the country's main island..
The Irish coast is heavily indented by bays. Among them, the largest are Shannon, Donegal, Galway, Lough Foyle and Dingle. The coast of the country stretches for 1448 km. The island of Ireland covers an area of ​​about 70.2 thousand km. sq. The territory of the state is administratively divided into 4 provinces and 26 counties (districts). The local population is of Celtic origin.
a brief description of
Off the western coast of the country are the Aran Islands, surrounded by Atlantic waters. They are distinguished by unusual landscapes. There are clean beaches, old forts, wind-blown shores, etc. In the Atlantic Ocean are located such islands of Ireland as Skelling. Their mountain peaks rise across from County Kerry. These rocky stretches of land are included in the UNESCO World Heritage List. Wildlife on the Skelling Islands is under state protection. For whale and dolphin watching, tourists travel to Bere Island in County Cork.
The picturesque islands of Ireland are also suitable for those who prefer to relax on sandy beaches. Very mild climatic conditions have formed on the island of Valentia, which is part of County Kerry. This small piece of land is influenced by the Gulf Stream. The island is 3 km wide and 11 km long. It has preserved Celtic settlements, holy springs and boundary stones. The westernmost inhabited island is Dursey. It is separated from the mainland by a narrow strait. Only 3 families live on this island. Dersey is connected to the mainland by cable ferry, making it a unique European facility.
Climatic conditions
The islands of Ireland are influenced by the Atlantic Ocean. This area is dominated by a moderate temperature, approximately +10 degrees. There is no extreme cold here, as in other regions at similar latitudes. The sea water also has a moderate temperature, without cooling too much, as the North Atlantic current passes near the islands. The central region of the island of Ireland is protected from powerful winds by mountains. The weather in the country is changeable, but there are no strong temperature drops.
Photos