Holidays in Eilat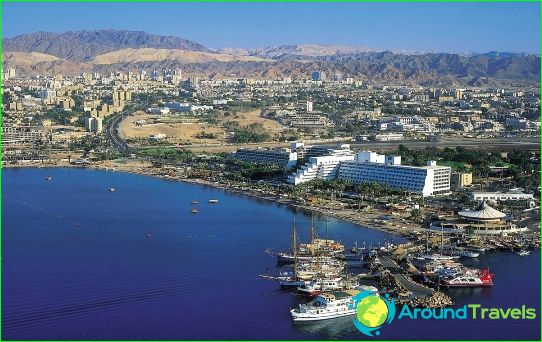 Holidays in Eilat are a paradise for lovers of entertainment and the gentle sun, divers, romantics, couples with children (vacationers in hotels can spend time on tennis courts, gyms and SPA, and little guests - in children's clubs).
The main types of recreation in Eilat
Beachfront: beach goers should take a closer look at Migdalor beach (free use of sun loungers and umbrellas): they have changing cabins, showers, hammocks, shops, a bar with branded drinks and treats, a rental point (it is worth renting a mask and fins to admire the picturesque sea bottom). Or you can go to the Hanania beach - it will appeal to lovers of water activities, including yacht cruises..
Excursion: going on one of the excursions, you will visit the Underwater Observatory, the Ornithological Center, the Camel Farm, a stone processing factory (on the excursion you will learn about the intricacies of this art, as well as visit the exhibition hall with souvenirs and jewelry); see the monastery of St. Catherine and the Masada fortress; take a trip to the stone mines and the Hai-Bar nature reserve.
Active: tourists can shoot at targets in one of the shooting ranges, swim with dolphins in "Dolphin reef", go sailing, snorkeling and diving (the waters of the Red Sea are home to a variety of marine life), ride a camel or horse, go fishing on the high seas or go on a desert safari. It is advisable for the whole family to go to the entertainment complex "Kings city eilat", famous for its numerous attractions - here you can go boating, walk through mysterious caves, and participate in entertainment events. And lovers of everything unusual can visit "Ice space" (the halls and interior items of this center are made of ice), where, for example, you can have a couple of cocktails in the ice bar.
Event-driven: it is worth planning a trip to Eilat for the Jazz Music Festival "Jazz on the Red Sea" (July-August), International Games Festival "What? Where? When?" (autumn), International Belly dance Festival (January).
Prices for tours to Eilat
The best time to travel to this Israeli resort is March-May and October-November. These months are high season, but the cost of tours to Eilat rises not only at this time, but also during the New Year and Christmas holidays, and during Christian and Jewish religious holidays (prices increase by 30-100%). In order not to overpay, you should book tours in advance. In addition, you can save money by going to Eilat during the low season (December-February, June).
On a note!
When packing your bags on vacation, do not forget to bring your swimwear, a hat, light clothing, sunscreen with a high SPF, as well as the most necessary medications (local pharmacies do not issue medications without a doctor's prescription).
Since Eilat is a duty-free zone, you should definitely go shopping here. Experienced travelers are advised to bring from Eilat a hamsa (talisman against the evil eye), souvenirs with the image of the Star of David, cosmetic products based on the gifts of the Dead Sea, firs, jewelry, Israeli wine.
Holiday photos in Eilat