Jerusalem Observation Decks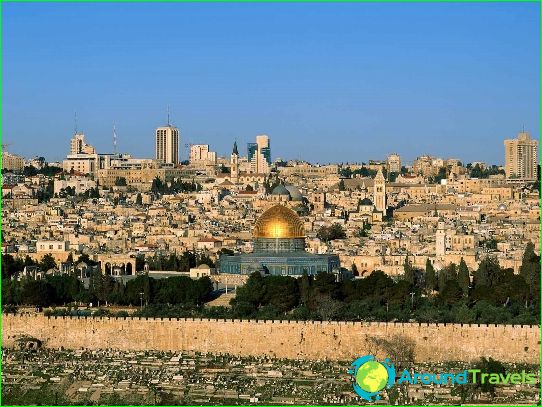 Travelers who climbed the viewing platforms of Jerusalem, from a different perspective, take a look at the local beauty in the form of the Garden of Gethsemane, domes and spiers of temples, the Western Wall and other objects..
Mount of Olives (Olives)
It has three peaks:
the middle peak at an altitude of 814 m above sea level (famous for the Lutheran Center with a hospital);
the southern peak at an altitude of 816 meters (the Ascension Monastery is located here);
the northern peak (height - 826 m), called Mount Scopus, from where you will be able to see all of Jerusalem and most of the Judean Desert (the campus of the Hebrew University is open here).
It is worth noting that the Mount of Olives allows vacationers to stand on the best observation deck, while admiring the Old City, the northern part of Jerusalem, the Kidron Valley and Mount Zion (climbing the mountain from its foot to the top will take about 20 minutes).
How to get there? From the Old Town, it will be possible to enter here through the Lion Gate, to which buses will take tourists (the company "Egged") No. 38, 1, 99, 2.
Bell tower of the church of Christ the Redeemer
Climbing the stairs with 170 steps, guests will find themselves on a platform from where a panorama of Jerusalem's beauty opens up along with its quarters and attractions (a ticket will cost about 15 shekels). In addition, travelers are advised to visit the courtyard (surrounded by galleries), and since the church has an organ, do not miss the opportunity to attend the occasional concerts..
Address: Muristan Road (for tourists - buses No. 43, 8, 28).
Solomon's palace
From its observation deck, guests admire the western part of Jerusalem, while taking picturesque photographs at the same time. Address: King George Street, 58.
Menachem Observation Deck
Climbing this platform, the guests will have views of the Jerusalem beauty of the western part of the city. You can also see the Judean Mountains from here. Address: 36 Henrietta Szold Street.
YMCA Tower
The 45-meter high observation tower (Art Deco style) offers views of modern Jerusalem and the Old City. Important: the ascent to the tower is carried out daily, except Saturday (Sunday-Thursday - 09: 00-17: 00, Friday - until noon).
Address: 26 King David Street (can be reached by buses # 38, 8, 30, 7).
A restaurant "Montefiore"
In a place where guests can admire the beauty of Jerusalem, they are treated to Italian cuisine and traditional Jewish dishes. Address: Yemin Moshe District.
Walking tour of the walls of the Old Town
Having stopped the choice on this excursion, tourists will see the Old Town and the squares surrounding it in a different way. So, their route will run from Jaffa to Lion's Gate (cost - 16 shekels / adults, 8 shekels / children).
Photos