Holidays in Israel in August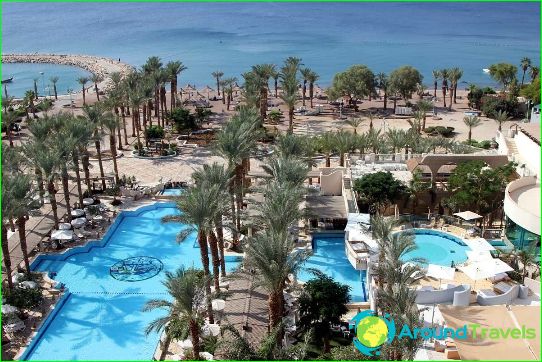 The aromas of distant wanderings and the burning breath of the sun, relaxation on the coast of the serene Red Sea and incendiary dances until the morning. These and many other pleasures will fill the rest of the tourist who has chosen a vacation in Israel in August..
The tiny territory, lost among the giants, the countries of the Asian region, undoubtedly has an enormous tourism potential. At the same time, it is in development, every year expanding the range of services offered to guests from abroad.
Weather
The weather in August pleases with the sun and real heat, the columns of street thermometers soar upward with cosmic speeds, reaching +30 ºC practically all over the country. And at the Dead Sea it is even higher, it is unrealistic to imagine, but here +38 ºC (air), +35 ºC (water).
The sky will not give a single drop for the entire period of stay. Therefore, Nordic guests should be extremely careful when outside, especially at noon. Cost to distribute your vacation between a beach stay and places with shade and air conditioning.
Beautiful Caesarea
Tourists who came to Israel in August should visit Caesarea, a small town located some 50 kilometers from ancient Tel Aviv. First, there is the only 18-hole golf course in the country. Secondly, the place is located on the shores of the Mediterranean Sea, the beach season is now in full swing, and the places for recreation on the coast are considered the best in Israel. And thirdly, the city is rich in cultural and historical landmarks..
Caesarea National Park
Once upon a time on these seaside lands there was a huge Roman port city. Many of the buildings of that distant time have survived to this day and are waiting for curious tourists. Each of the visitors makes up his own acquaintance program, someone goes to «The palace on the reef», some are interested in fragments of city blocks.
Lovers of Roman culture will be amazed at the scale of the architects who managed to build such a gorgeous amphitheater of Herod the Great, build a hippodrome and aqueducts. Particularly good wall mosaics are partially preserved..
Wine Festival
This holiday is held annually in Jerusalem in August. It is clear that a country so generously endowed with solar heat cannot do without grapes. Hundreds of wineries from all over the country take part in the already traditional events within the framework of the wine festival, inviting all residents and guests of the city to tasting.
Israel - promo video

Photos of rest in Israel