Holidays in Israel in September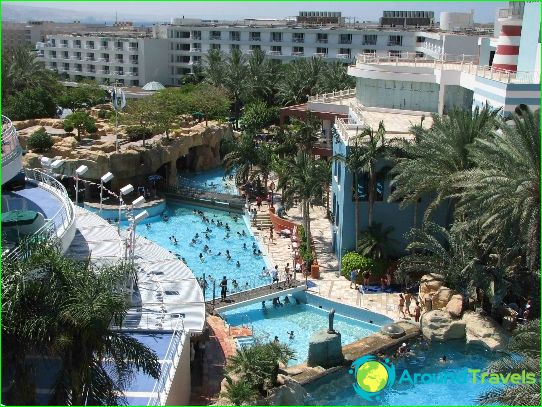 In September, comfortable weather sets in Israel, allowing you to fully enjoy your vacation. However, in order to plan a tourist trip, it is important to know the weather conditions..
Weather in Israel in September
First of all, it must be remembered that the air temperature continues to remain high. In Eilat, during the day it is + 32 ... 34C, at night - + 25C. In the resorts of the Dead Sea, the maximum temperature is + 34C. In Mediterranean resorts and in Tel Aviv, the air can warm up to +30 degrees. In Haifa, Tiberia, the temperature is already decreasing, because it is + 27C.
Everyone can enjoy swimming in the sea. The water in the Red Sea is not cooling yet, and its temperature is about +27 degrees. The water in the Mediterranean Sea also continues to delight with warmth, because its temperature reaches +28 degrees. The Dead Sea is the warmest, everyone can enjoy the water temperature of +32 degrees.
Sunny weather reigns in September. Despite this, in mountainous areas and on the western seaside, there may be 1 - 2 rainy days. There is no need to fear desert storms, because their risk is rapidly decreasing. Such weather conditions are conducive to relaxation..
Festivals in Israel in September
Do you want your holiday in Israel in September to be remembered for a long time? In this case, you need to take care of your cultural leisure. So what festivals might be of interest?
The Knights' Festival is traditionally held in the Old City of Jerusalem. Anyone can take part in events with an unusual scenario. Most of the events are free of charge. You can see a big battle for an ancient castle, duels of frozen street knights, take part in the search for lost treasures and in a victory parade, visit a knight's feast, learn legends. Such a pastime will give vivid impressions..
Jerusalem hosts the Wine Festival every year, with numerous wineries participating. Everyone can taste delicious alcoholic drinks and get acquainted with the museum expositions.
Musicians from all over the world come to Jerusalem for the Festival of Sacred Music. Events are held in places that have important religious, spiritual, historical significance.
Enjoy your holiday in Israel as September favors it!
Israel - promo video

Photos of rest in Israel