Airport in Bergamo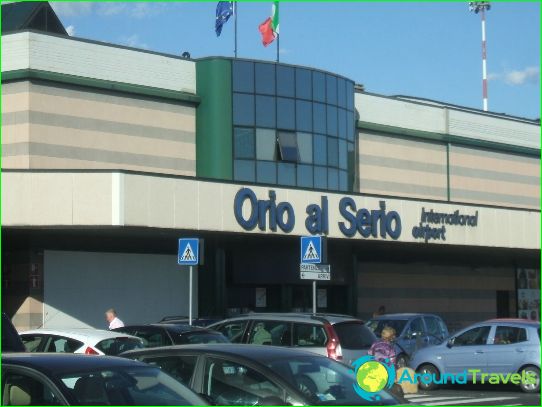 Bergamo Airport, better known as Milan Bergamo Airport or Orio al Serio Airport, actually serves the northern capital of Italy, Milan. Although the airport itself territorially belongs to the city of the same name - Bergamo, as it is located only 3 km from it. The airport in Bergamo is international, as well as the main airport of Milan - Malpensa. Only airlines serving Orio al Serio are slightly lower in rank.
Cheap flight
The airport in Bergamo is served by low-cost airlines, among which Ryanair is famous throughout Europe. You can fly to Orio al Serio on low cost flights from different European cities, including a Moscow-Bergamo flight, which will cost much less than flying directly to Milan airport. Plus you can get to know a very beautiful city - Bergamo, before your trip to Milan.
What to eat?
The airport in Bergamo has 7 food outlets - these are cafes and restaurants, such as: "Agripromo Bergamo", "Iniziative Commerciali", "Mariana", "Espressamente". In these establishments, the passenger can enjoy Italian cuisine, as well as dishes and snacks known all over the world, for example, hamburgers or sandwiches. Opening hours of food points - from 8:00 to 00:00 local time.
Internet
Nowadays the Internet is very necessary for people, most airports offer free Internet access. However, the airport in Bergamo does not provide such a service, or rather, free internet is available only in the departure hall, i.e. the passenger can use it only after check-in for the flight. Before registration, you can access the Internet through special Internet terminals, the service is paid.
Parking
The airport in Bergamo has 5 types of parking:
Parking for car rental companies;
Budget parking for long-term car parking;
Two-level parking at the airport terminal;
Parking for short-term parking, for example, for meeting / seeing off;
Disabled parking.
Transport connection
Most passengers from the airport in Bergamo get to Milan, so we will consider this option, although you can easily get to other nearby cities.
Rent a car - for lovers of independent driving, various agencies located right at the airport offer car rental. The prices can be found by contacting the agent directly;
Bus - buses of 3 carriers go from the airport. The ticket price is the same, around 9-10 euros (adult) and 5 euros (children).
Train - By train, Milan can only be reached from the city of Bergamo. Local buses run from the airport to the railway station. The total amount will be approximately 7 euros (for a bus to the railway and for a train to Milan).
Photos Bergamo airport