Christmas in Rome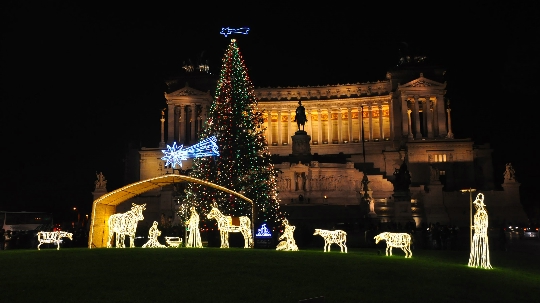 Christmas in Rome is by no means a one-day holiday: it is accompanied by a series of holidays.
Features of the celebration of Christmas in Rome
Visiting Rome in December, travelers will be able to see giant paintings depicting Christmas scenes on the streets, and in churches - statues of Jesus, the Virgin Mary, the Magi. Unlike other European capitals, in Rome, you should not wait for a meeting with Santa Claus - instead of him you can meet shepherds in fur leggings and lambswool jackets playing bagpipes.
Locals decorate their homes for the holiday with Christmas stars in the form of lawns with red flowers, and windows are painted with words with good wishes (for example, "Buon Natale!" - "Merry Christmas!"). Christmas is celebrated with friends, and the traditional Christmas menu consists of octopuses, shellfish, eel, dried cod, pasta, panettone pie, and a variety of vegetables. As for fruits, only apples are not put on the table (they are a reminder of original sin).
A festive menu and a cozy atmosphere await you in Roman restaurants. So, you can enjoy your Christmas lunch in the Mino restaurant, where you will be served a salad with seafood, beef carpaccio, pasta with meat and walnuts with tomato sauce and other dishes..
Entertainment and celebrations in Rome
Going on a sightseeing tour for Christmas in Rome, travelers will be offered to visit the Vatican and attend the Christmas Mass (St. Peter's Basilica).
Festive programs are held in the Auditorium Concert Hall, Opera and Argentina theaters.
Winter music festival "Toccata & Fuga": in December (takes place once a week during the month) visitors will be entertained with performances from the traditional classical repertoire, performances of ballet groups and opera singers accompanied by piano accompaniment.
Looking into the Museum of Christmas Day nurseries, you can see the nursery brought here from different countries (there are original models made of stones, shells, paper, wax, bread).
Christmas markets in Rome
At the Christmas market in Piazza Navona, visitors are offered peanuts, almonds in nougat, ciambelle donuts, handmade toys and figurines, souvenir brooms, traditional, modern and original Christmas decorations.
Visit the Christmas market in the Spinaceto area - in addition to buying Christmas souvenirs, you will be able to attend music performances here.
And in the Flaminio quarter you will find an ice rink, a Christmas village, a bazaar with traditional food and souvenirs..
Photos