Things to do in Rome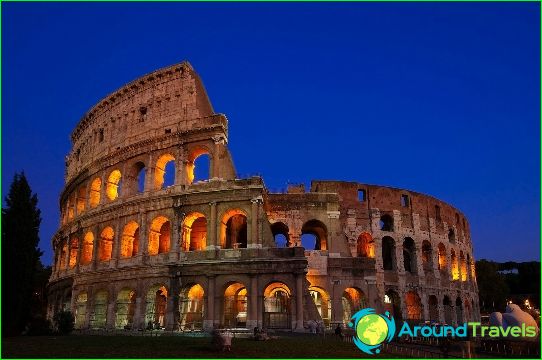 Entertainment in Rome is a rich program at any time of the day: in the morning you can go on an excursion to the Borghese Gallery, in the afternoon - to one of the water parks or amusement parks, and in the evening - to a nightclub.
Amusement parks in Rome
Zoomarine: This amusement park invites visitors to walk through a grove where exotic birds fly, ride roller coasters or water slides, jump into the pool from special towers, enjoy a show with fur seals and dolphins, and look into a 4D cinema. As for lovers of calm and wellness rest, the park provides a therapeutic shower and a jacuzzi at their service..
Theme Park "Mondo del Fantastico": here you can meet superheroes and fairy-tale characters (Batman, Superman, Snow White, Count Dracula), visit performances, see musketeers in duels, and knights in tournaments.
What entertainment in Rome?
Do you like nightlife? Go to the Alpheus nightclub (rock parties are held here on Fridays, Argentine tango is danced here on Tuesdays, and jazz and ethnic nights are performed on Thursdays and Sundays) or Akab (there are 3 dance floors where they dance to rock, hip-hop, R'n'B, pop and electronic music).
You can spend time in the erotic club "Luna": there is everything for a pleasant pastime - a dance floor, an open-air pool with hydromassage, meeting rooms. In addition, this club hosts erotic shows..
On vacation in the capital of Italy, you should definitely visit the Roman Zoo - walking along its picturesque alleys, you can admire magnolias, palms, giraffes, buffaloes, elephants, peacocks, tigers. And in small ponds you can see crocodiles, sea turtles, hippos.
There is no time to be bored in Rome in summer - from June to September, for 100 days, you can go to rock and classical music concerts, attend open-air film screenings, as well as thematic exhibitions in city museums, attend events for children (all this takes place in as part of the Estate Romana festival).
Fun for kids in Rome
Aquapark "Hydromania": children here can spend time on the playgrounds together with the animators (they will involve them in dance activities, arrange contests for them and conduct aqua aerobics classes) and have fun on the water attractions. And teenagers will be interested in spending time in the pool with tsunami waves and slide down the steep slides.
Children's Museum "Explora": young guests are invited to participate in interesting events held in several thematic sectors (economy, new technologies, environment). It is worth noting that all classes are designed for a specific age group (you can find out about this by special symbols - 0-3, 3-6, 6-12 years old). Educational lessons in this museum are conducted by involving children in specific activities. In addition, the museum has cafes and playgrounds where you can "take a break" from classes..
Rome is a paradise for shopaholics, lovers of night adventures and walks in beautiful places.
Photos