Prices in Rome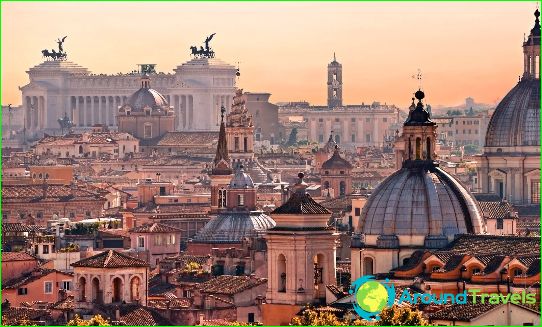 The most visited city in Italy is Rome. Therefore, the cost of services and goods is overpriced there. Consider what prices are fixed in Rome this year.
Residence
Rome hotels offer more expensive rooms than hotels in other European cities. This is especially true for establishments that are located in the very center of the city. On the outskirts, you can find budget accommodation. Hotels near Termini train station also offer affordable accommodation. Numerous hotels operate in the city, among which you can find an institution to your liking..
Reservation of rooms is possible in hotels of different classes. The cost of living depends on the number of stars, location, number of storeys, season and additional services. The average price for a room per night is 2200 rubles. There are mini-hotels in Rome that offer comfortable and small rooms. If desired, any tourist can settle in an apartment.
Excursions in Rome
Museum tickets are inexpensive. You can visit the main sights of the city without harming your wallet. Many monuments of history and culture can be viewed free of charge. Tourists usually book sightseeing tours of Rome. Private guide services cost 45-50 euros per hour. Group excursions around the city's outskirts cost at least 40 euros.
Restaurants and cafes in Rome
There are many chic restaurants in the capital of Italy. Top middle-income establishments tend to be overcrowded. You can eat cheaply in cafes that are far from the city center. There are hosteia and trattoria in Rome, which are analogous to Russian taverns. They offer a wide range of inexpensive and delicious food. Dine in a trattoria is cheaper than in a restaurant. By paying 15 euros, you will taste several Italian dishes. Home-cooked restaurants are also considered economical. Lunch there costs no more than 9 euros.
The most budget-friendly option is to buy a take-out pizza. The cost of this dish is about 2-4 euros. Italians themselves usually have breakfast with croissants, washed down with their coffee. In Rome, it is recommended to try artichokes, zucchini in batter, oxtail soup, pasta with pecorino cheese, beef eggs and many other unusual dishes.
How to get around Rome
The transport system in the city is excellently developed. Prices in Rome for public transport services are affordable. Tourists most often use trams and buses. A 1-way ticket is valid for 75 minutes and costs 1 euro. The Italian capital has a two-line metro. For tourists, special buses with panoramic windows run in the city, which make stops throughout the city. The cost of a tourist bus ticket is 15-25 euros.
Photos