Independent travel to Rome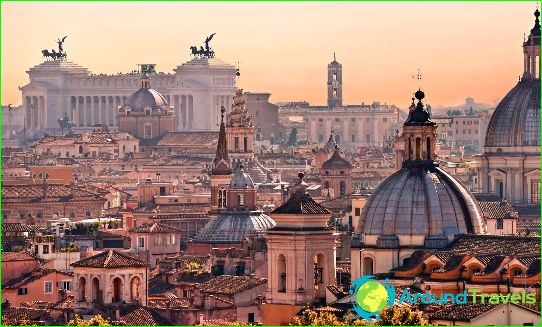 Rome has existed for almost three millennia, and during this time it has rightfully earned the fame of the Eternal City. All roads and all roads lead to Rome, and therefore the Italian capital is invariably on the list of the most important cities to visit for many travelers..
When to go to Rome?
Any season in Rome is great. True, in summer it can be too hot there, but autumn or spring fully justify the hopes of travelers. It is during these months that walking is especially comfortable, and warm Roman evenings set you in the most romantic mood. In winter, the city transforms and becomes elegant and solemn. Catholics from all over the world come to Rome to get to the Vatican and admire the main Christmas tree of the planet.
How to get to Rome?
Passengers of direct flights from Rome to Moscow spend less than four hours in the air before setting foot on the ancient land. From Fiumicino airport, the easiest way to get to the city is by electric trains, boarding on which is carried out directly in the airport building..
Housing issue
Hotels in Rome exist for every taste and need, the price of staying in them depends on the location and star rating, and therefore, when choosing, you should be guided by the combination of all these factors. Even the most unassuming hotel in the capital of Italy will be comfortable and convenient, and the lack of stars is more than compensated by the attentive staff, ready to help their guests in everything..
Argue about tastes
It is in Rome that you can understand for yourself what true Italian cuisine is. It prepares authentic pasta and pizza, serves ravioli with real parmesan and decorates fruit desserts with a sense of style that is unique to the local chefs. The easiest and cheapest place to dine is in a pizzeria, each of which offers a hit of Italian cuisine both at tables and to take away. But to feel the real Roman spirit, it is worth ordering at least one dinner in an open air restaurant overlooking the Colosseum or other ancient landmark. In addition to luxurious dishes, at such a dinner you can fully enjoy the magnificent views of the old city, each stone in which is ancient, valuable and memorable.
Informative and fun
You need and can wander around Rome endlessly. Its historical center is not at all large in comparison with the Moscow scale, and therefore a detailed map and comfortable shoes will be a sure guarantee that the city will reveal its secrets and become a real good friend to every curious traveler..
Photos of the trip to Rome