Independent travel to Venice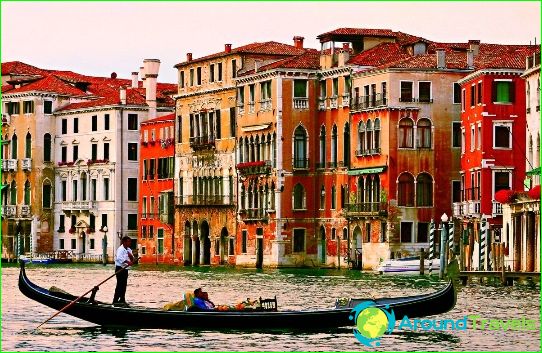 Mysterious and romantic, Venice has attracted people for centuries. The secret of its charm, it seems, will never be revealed, because every traveler has his own Venice. But you can still try to touch its cool bridges and ancient palazzo, although time and water are inexorably bringing closer the day when you can only talk about the city...
When to go to Venice?
Venice is beautiful in spring and summer, when the warm wind from the sea brings revival to its narrow streets, the smell of aromatic coffee is clearly felt in the cafe, and long evenings allow you to admire the ancient gondolas in the rays of the setting sun. Winter in Venice rarely boasts low temperatures, but the proximity of the sea, winds and rains make the city not very welcoming and comfortable for walking..
How to get to Venice?
Venice International Airport is located in the suburbs and it is easier and cheaper to get from it to the city by bus or vaporetto boat. Bus stops are located directly opposite the exits from the airport arrivals hall. Blue Express trains run every 15 minutes and arrive at Piazzale Roma in the center of Venice.
Housing issue
Venetian hotels are not cheap without exception. Even for a simple "kopeck piece" you will have to pay at least 100 euros per day. Therefore, experienced independent travelers prefer to settle in the suburbs, where everything is cheaper and more accessible. At the same time, the issue of the price of travel in public transport remains on the agenda, but even adding the cost of round-trip tickets to the price for a hotel is not comparable to the fact that you have to pay for accommodation on the island part.
Argue about tastes
The expensive restaurants in Venice located on the most tourist routes, unfortunately, do not guarantee excellent cuisine. Experienced tourists prefer to eat in cafes far from popular places or buy groceries from supermarkets before spending the night at the hotel. Inexpensive ready-made "food to go" in Venetian pizzerias is another option for refreshment in one of the most expensive cities in Europe.
Informative and fun
The main attraction of Venice is the Grand Canal and St. Mark's Square. Each trip to the vaporetto from the hotel will become a kind of excursion along the main "street" of Venice, and it is easiest to admire the Doge's Palace and take the best photos of the famous square in the early morning, when the organized crowds of tourists have not yet occupied its ancient pavement.
Photos of the trip to Venice