Where to eat in Verona?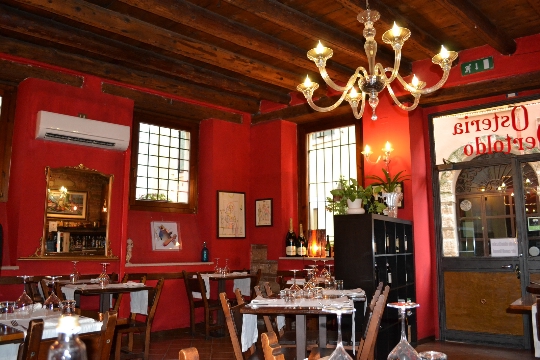 "Where to eat in Verona?" - a topical question for vacationers in this Italian city. To services of tourists - osteria, restaurants, trattorias, pizzerias ...
In local establishments you can taste gnocchi, polenta, risotto, pasta, assorted boiled meat with an original sauce made from broth, spinal cord, parmesan and bread, as well as dishes from exotic meats such as pheasants, pigeons or horse meat.
Where to eat in Verona cheap?
In search of delicious food at reasonable prices, you can go to McDonalds, as well as delle Nazioni pizzeria, where you can order Italian pizza and pasta..
If you are a lover of meat and fish dishes, head to Osteria Bertoldo. This establishment specializes in the preparation of hearty and delicious dishes typical of the Campania and Sorrento regions (you should definitely try the homemade desserts here).
If you decide to have lunch or dinner in a cozy restaurant with reasonable prices, then you should take a closer look at Liston: here you can order spaghetti allo scoglio (pasta with seafood) and a delicious dessert - tiramisu.
Where to eat in Verona is delicious?

Osteria da Ugo: This restaurant's menu includes local cheeses, donkey-based ravioli, porcini mushrooms with venetian onions, meat with duck sauce, Robiola cheesecakes, pies with fruit fillings.
Al pompiere: this place offers its visitors to order something from the "sausage list", as well as dishes from different Italian regions, including polenta with horse meat.
Ippopotamo: In this restaurant you can enjoy classic pizza, Italian pasta, grilled fish and meat, fettuccine with salmon, various cakes and ice creams of our own production. In addition, there is a rich selection of liqueurs, cognacs and wines..
Locanda dei Capitani: In this restaurant you will be able to enjoy the local interior (marble windows, bas-reliefs, busts) and Italian dishes prepared according to old recipes. Since the restaurant's menu is constantly changing, you can always taste seasonal local products in the form of pumpkin, asparagus, red chicory, celery..

Gastronomic tours of Verona
On a gastronomic tour of Verona, you will be invited to visit the wine cellar in a wine-making villa surrounded by vineyards and taste a variety of wines with notes of chocolate, cherries and roasted coffee beans. If you wish, you can go to a culinary master class, thanks to which you will learn how to cook risotto and homemade pasta.
Verona's food outlets are able to satisfy the most varied tastes and preferences of their many guests.
Photos