Diving in Italy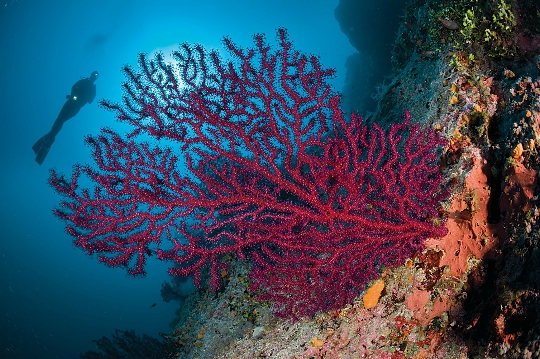 Italy gives its guests wonderful shopping, beach holidays and other delights. But do not forget that the "boot" is washed by five seas at once, so diving in Italy has its own delights.
Liguria
In this part of Italy, it is worth paying attention to Cape Portofino. There are great dive sites here. The main place of their concentration is the Il-Monto mountain. Here you will be greeted by vibrant inhabitants of the deep sea: eels, lobsters, octopuses, transparent jellyfish and gardens of red fans.
Another good dive site in the Ligurian Sea is Elba Island. The site of Punta de Fetovaia is especially popular here. The local bottom is solidly covered with pebbles, which does not allow the bottom suspension to rise, so the visibility is just excellent, up to 20 meters.
Pontic archipelago
The main dive site here is Circeo National Park. Diving is especially interesting here, as you will really enjoy exploring the whole maze of tunnels, which were artificially created for the purpose of fish breeding. In addition, the islands served as a haven for sea pirates, so interesting finds are not excluded..
Mediterranean Sea
Diving sites located in the waters of the Aeolian Islands will delight divers with numerous underwater caves that were created by the eruptions of underwater volcanoes. And now they have become a refuge for numerous fish, striking with their unimaginably bright colors. Similar underwater landscapes can be observed when sank to the bottom near the Amalfi Peninsula..
The Aeolian Islands will also be of interest to fans of river diving. Here you can see the remains of many sunk ships.
Sicily
It's just great river diving. Numerous ships that can be found date from different eras. Of course, the main mass is made up of rivers from the times of both wars, but the remains of some ships belong to the times of ancient Roman rule. Of particular note are the sites located in Syracuse, Lampedusa, Usyke and Taormina. So the Syracuse site will be interesting for both beginners and diving professionals. The visibility in the waters here is just excellent - 40 meters. The main underwater entertainment is caves. From marine life you will be greeted by moray eels, stingrays and barracudas.
Lakes of italy
The visibility here, of course, is much lower than in the sea, but this dive does not become less interesting. In particular, Lake Garda, located in the north of the country, is of interest to tourists not only as a place for a beautiful holiday, but also as an opportunity to explore its bottom..
Photos