Beaches in Catania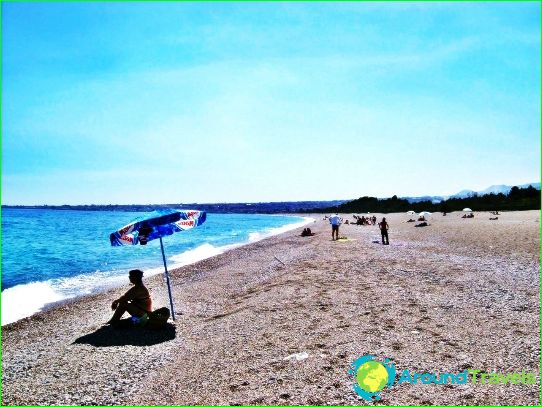 The legendary island of Sicily is renowned for its holiday paradise. The beaches of the famous resort are very diverse. Here you will find beaches with white, yellow and black sand, some of which are located near the rocks. The best beaches in Catania are concentrated in La Playa. The length of the beach of the same name is no less than 18 km. The beach strip ends at the foot of Etna, that is, almost at the very center of the city.
A beach with an unusual mythical past
The rest of the coast is called the Cyclops Coast. Not surprisingly, this part of the beach looks gloomy, the entire surrounding area is characterized by the presence of a large number of rocks. For many years, nature has carved massive stones from the solidified lava mass. The result is these whimsical and slightly depressing stone monsters. Although the local legend associated with their origin sounds much more romantic. And yet you cannot take away its charm from the beach. The part of the beach adapted for tourists has everything you need for a comfortable stay. There are well-equipped recreation areas with sun loungers and umbrellas, entry into the sea is also very convenient. Soft light sand pleases the eye.
Li-Kuti beach
There is another beach in Catania called Li Kuti. But he is most loved by the locals. Its territory is not as well equipped as on the beach of La Playa, there is no good infrastructure. Although in the area of ​​the coastal zone it is much larger. Instead of warm sand, there are many stones and solidified lava. Entry into the sea is not very convenient due to sharp stones falling into the water.
These are not the only beaches located in Catania. We can mention such beaches of Catania as:
Pozzillo (famous beach resort);
Praiola di Giarre beach;
San Marco;
Santa Tecla;
Stazzo;
Mulino.
Municipal beach of Catania
The 18 km line from Porto to the Baths of Anyune is known among tourists as a place for a good holiday at a reasonable price. The municipal beach of Catania is quite beneficial for families. The beach is quite nice, sandy.
Lido Azurro beach
The paid Lido Azurro beach is quite large, well-equipped and quite affordable at prices. Those wishing to look at the miracle of nature and simply admire the unusual landscape in the light of the bright Sicilian sun should visit the black sand beaches. Such beauty stretches along 9 km of coastline from Catania to the vicinity of Acirealei.
Photos of the beaches of Catania