Italian Railways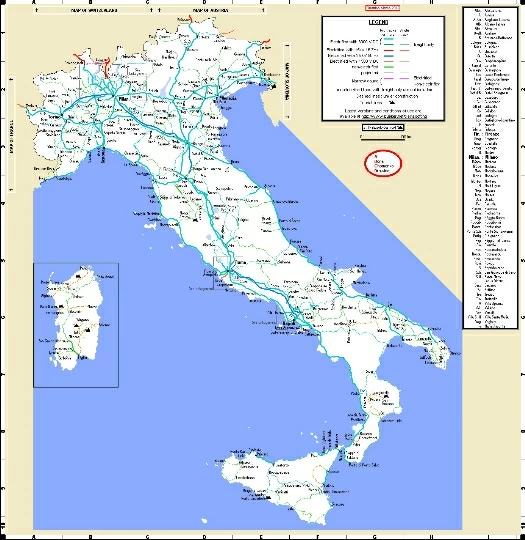 The railway system in Italy is considered one of the best in Europe. In recent years, investments in this area have exceeded 5 billion euros. The train is considered the most comfortable mode of transport in the country. Italian railways compete successfully with airlines in the domestic market. At present, the length of the railways in the country is about 17 thousand km. The leader in the field of transportation is the state-owned organization Trenitalia, which accounts for about 79% of transportation. In addition to this company, other railway organizations operate in Italy, which occupy a small part of the market..
Italian trains
Train speeds are controlled from a distance thanks to high quality control systems based on GSM. This allows you to bring the train to the desired point under any conditions in automatic mode, controlling its speed.
Passengers are offered trains of the Frecciarossa type (Red Arrow). In some areas, it can reach speeds of 360 km / h. These trains run on new high-speed routes connecting Milan, Turin, Naples, Bologna, Rome and Salerno. Red Arrow - trains of exceptional comfort and Wi-Fi connection.
In Italy there are trains of the Frecciargento category (Silver Arrow). They act as both regular and high-speed trains, picking up speeds of about 250 km / h. They are used on routes connecting Venice, Rome, Verona, Lecce and other cities..
Trains of the Frecciabianca (White Arrow) type are capable of traveling at a speed of 200 km / h. They are operated on the lines between Milan and Venice, Trieste, Udine. Trains of this category are actively used on local lines on the coast. They are distinguished by comfort, favorable prices and good service. Such trains are equipped with first and second class carriages..
On the railways of Italy there are trains of the Intercity category. Previously, they were luxury trains and were used on popular intercity routes. Today, such trains run on an international route under the Eurocity designation..
Tickets and cost
When planning your trip to Italy, check out trenitalia.com for routes, timetables and ticket prices. It is the official resource of the Italian railways. There, the passenger can buy a train ticket online. The most expensive tickets are for Eurostar trains, which are considered the fastest. Cheaper travels on Intercity trains are cheaper, even cheaper - on Regionale, Diretto and Espresso.
Photos of trains and rail maps of Italy