Holidays in Italy in July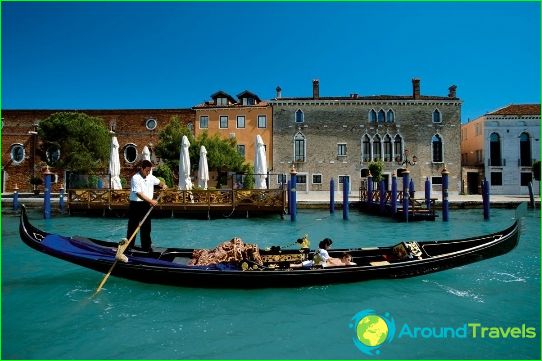 The central month of fabulous summer is one of the most favorable for traveling in this small but proud country, which occupies the southern territories of Europe. July is the top of summer, Italy amazes with the beauty of flowering shrubs, greenery and a sense of constant celebration. Undoubtedly, a vacation in Italy in July will be accompanied by wonderful weather, gentle sea baths and beach activities, exciting trips to iconic places.
Weather forecast
In Italy, July is a real hot summer. As you get closer to the south of the country, it gets even hotter. Average daytime temperatures +29 ° C, nighttime temperatures +17 ° C. Winds from the African Sahara can heat the air up to + 35 ° C. Adults and young tourists are pleased with the water temperature on the shores of the Adriatic and Tyrrhenian Seas, where +24 ° C.
Palio in Siena
Famous horse races have been held in this beautiful Italian city for more than one century. Twice a year (first on July 2, and then on August 16), riders and beautiful horses take part in competitions on the main square of the city. The horse is the winner, not the skilled rider. Festive processions at the end of the competition program continue throughout the night. It is this holiday that attracts an army of tourists, horse lovers and fans of a beautiful entertainment event to Siena..
Festa del Redentore
This wonderful festival has been held in Venice in July (third weekend) for over 500 years. The main idea of ​​the celebrations is the ascension of honors to the Savior, who in the 16th century stopped a terrible epidemic. To this day, Italians celebrate an important event for the city with pomp and solemnity. That there is only a bridge, 330 meters long, connected from gondolas and decorated with garlands, flowers, lanterns.
The festive feast with songs and dances lasts two days, covering not only land, but also numerous canals, where local citizens and guests of the city have fun on gondolas, boats and ferries. The finale of the holiday - a grandiose fireworks display over Piazza San Marco.
Praise to Saint Anne
Actually, this woman is Jesus Christ's grandmother, it is not surprising that the Italians have such a cult of worship of St. Anna. Streets, hospitals are named after her, a temple has been erected in almost every city..
Therefore, the celebrations on July 26 are held throughout the country, and the largest ones are in the city of Caserta, whose patroness Saint Anna became, in Florence. Another grandiose in scale event gathers crowds of tourists on the island of Ischia, who come to watch the catwalk of boats, which are decorated with allegorical drawings for the holiday. Well, in the evening, of course, fireworks.
Photos of holidays in Italy