Holidays in Italy with children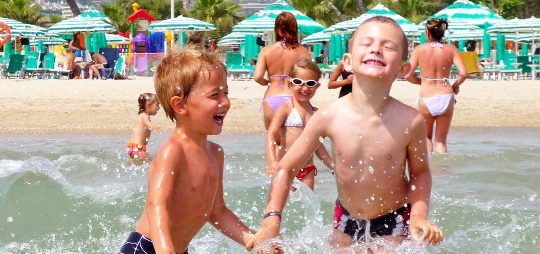 What is an ideal holiday in Italy with children? In addition to the bright sun and blue sea, there is also a huge number of attractions, each of which is worthy of being an illustration for a history textbook. The ability to combine beach relaxation and an excursion and educational program allows you to make your holidays or vacations as rich and memorable as possible.
For or Against?
It is extremely difficult to find arguments "against" holidays in Italy. The only thing that fits this category of reviews is a large number of people who want to visit the same places and see the sights at the same time. Everything else is just undoubted advantages:
A flight that is not too long will not tire the child or cause further acclimatization problems.
European service and the quality of the services provided will not allow you to worry about safety.
Perfectly streamlined transport system and the organization of excursion programs at the resorts will make it possible to make interesting trips around the surroundings and see many historical and architectural sights..
Useful addresses for profitable shopping will help to update the wardrobe of both adults and kids.
The presence of a Schengen visa and the proximity of neighboring countries make it possible to visit other states of the Old World with excursions.
Preparing properly
The swimming season on the local beaches starts confidently with the beginning of summer and lasts until the first days of October. For a comfortable stay on vacation in Italy with children, it is enough to have a standard traveller's health insurance..
Passwords, appearances, addresses
Beach holidays in Italy with children are resorts on the Adriatic or the Tyrrhenian Sea. In the first case, the Emilia-Romagna region is ideal for both toddlers and their parents. The main destinations for such trips are Cesenatica, Rimini, Cervia and Riccione. The sea is always clean, the beaches are sandy, and the entrance to the water is shallow and absolutely safe even for the youngest members of the family. The equipment of the beaches is also important! In the Emilia-Romagna zone, they always have fresh showers, sun loungers, changing rooms and sun umbrellas. A visit to the amusement parks in the Rimini area will help you to diversify your beach holiday, the most popular of which is Mirabilandia..
The Tyrrhenian coast is the resorts of Terracina, Orbetello and Alassio. There are many restaurants with a huge selection of fish dishes, excellent shopping and clear sea.
Photos