Jamaica flag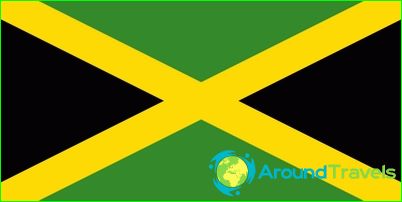 The flag of Jamaica has a rather complex pattern. Its base is a golden cross, which is located diagonally of the canvas. He divides the area of ​​the flag into four equal triangles. In this case, the upper and lower triangles are shown in green, and the left and right ones are in black. The official adoption of the country's symbol took place on August 6, 1962. This is Jamaica's Independence Day from the UK. Jamaica was an English colony.
The black color symbolizes the black population of the country, the spiritual strength of the people, creativity, talents and giftedness. The gold-colored cross symbolizes the sun, which generously illuminates the country with its rays, as well as the variety of natural resources that the country is gifted with. Green color denotes the diversity of agricultural products and the development of this area, and it also symbolizes faith in the future of the state, its development and prosperity. In general, black, green and yellow are traditionally the colors of the African continent..
The choice of the flag took place within the framework of a national competition. Initially, a variant with stripes placed horizontally was proposed, but it looked like the state symbol of Tanganyika. After that, they decided to display an oblique cross on it, which is used in the commonwealth of nations..
An interesting fact is that in 2005 elections were held in Germany, unfortunately, they did not give any results. Then the newspapers began to frequently publish the flag of Jamaica. It was featured in the media as an example of a possible alliance between the three main German parties. It is black for conservatives, yellow for liberals and green for the Environmental Party. Such an alliance was called the Jamaica Coalition.
The capital of Jamaica is Kingston. The population is two million six hundred and forty thousand people. Today Jamaica is an independent state, which is part of the Commonwealth, and is headed by the United Kingdom..
English is the state language of the country. The head of state is the Queen of Great Britain, but she is represented in the country by the Governor-General. Parliament, consisting of the House of Representatives and the Senate. The executive body is the Council of Ministers. It is an island nation. Eighty percent of the country's population is Protestant. Seventy-six percent of the inhabitants are African. The climate in the country is tropical, humid and hot.

Photos of the flag of Jamaica