Jamaican cuisine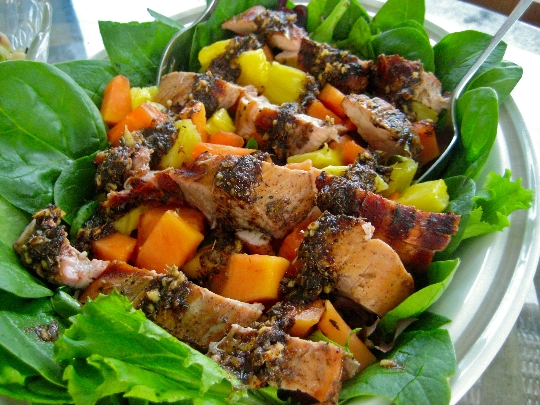 Jamaican cuisine "implicated" on English, African, Spanish, Indian, Chinese culinary traditions, and is based on the use of pork, poultry, vegetables, seafood and various seasonings.
National cuisine of Jamaica
If we talk about everyday Jamaican food, then it is based on thick broths on meat or fish, which are poured over vegetables or rice. Ginger, cardamom, thyme, nutmeg, curry, and Jamaican pepper are often added to give dishes a pungent and spicy taste..
Vacationers on the island are advised to try Jamaican dishes in the form of baked and fried bananas; beef with rice; fried pineapple with sauce; marinated seafood fried with onions and peppers; a stew made from sweet potatoes, cassava, corn, yucca, and other tropical fruits and vegetables. If you wish, you can taste Rastafarian food - no dairy products, salt, meat and alcohol are used for its preparation: it is based on grains, fruits and vegetables, fresh juices.
Popular Jamaican dishes:
"riceandbeans" (a rice and red bean dish made with coconut milk, peppers and onions)
"jerkchicken" (grilled chicken, but pre-marinated in a spicy and aromatic sauce);
"currygoat" (kid fried in olive oil, pre-marinated in lemon juice with spices);
"patties" (pies with meat, vegetables, cheese, seafood or fish filling);
"calallosoup" (a rich soup based on a plant, like tops or spinach);
"manishwater" (soup from the head, giblets and hooves of a goat, during cooking, to which yams, potatoes, carrots, bananas and hot spices are added).
Where to try Jamaican cuisine?
If tips are not included in the bill in the restaurants that you decide to visit, then you can leave a monetary reward in case of good service in the amount of 10-15% of the order amount.
Is your goal to satisfy your hunger with national dishes? In Kingston take a look at "Strawberry hill" (the establishment serves Jamaican dishes in the form of smoked chicken, bammy tortillas, lamb curry), in Negril - in "Ras Rody's Roadside Organic" (the place will appeal to lovers of organic food - they cook Rastafarian-style dishes here, namely, rice and beans, vegetarian curry, soup with local vegetables).
Cooking classes in Jamaica
Gourmet tourists will be able to go on a culinary tour of Jamaican restaurants: for example, they will visit "Pimento porch clubhouse" (there will be a lecture on Jamaican cuisine and a lesson on making jerk) and "One one coco" (here the participants of the gastro-excursion will be taught how to cook a roast from a goat's head and legs with yam and bananas, as well as how to mix tropical cocktails correctly).
Arrival to Jamaica can be timed to coincide with the Festival of Wine and Food (September, Kingston), Festival "Caribbean rum" (Autumn, Montego Bay), where participants are invited to taste different types of rum and products based on this drink, as well as the Jamaican Coffee Festival (September-October, Kingston).
Photos