Independent travel to Riga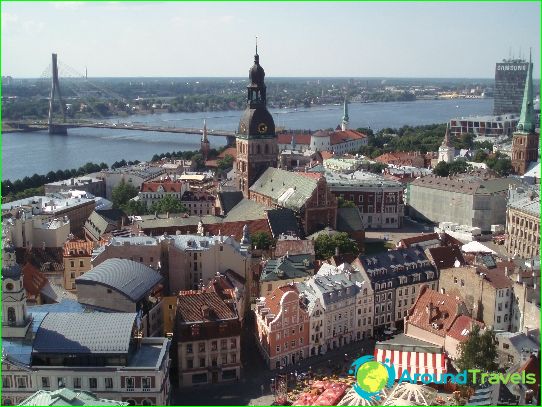 The Baltics have always been considered something sophisticated, stylish and graceful. Only a few could afford a vacation on the Riga seaside, but it was it that subtly resembled a vacation in the west that was unattainable in those years. Films "about the West" were filmed in Riga; it attracted and attracted thousands of admirers of the medieval charm of ancient castles and towers. Today's capital of Latvia is a place where you can spend time in romantic walks and return for a short while to childhood dreams.
When to go to Riga?
In summer, Riga attracts with comfortable weather, which allows you to walk along its old streets for a long time and admire the sights. On Christmas Day, the city is decorated like a picture, and numerous fairs, bazaars and sales make the capital of Latvia especially attractive for shopaholics. Even in January, the temperature here does not drop below -5 degrees, and hats and scarves knitted by Latvian craftswomen perfectly save from the piercing wind..
How to get to Riga?
Direct flights from Moscow, St. Petersburg and some other cities of Russia are performed by various airlines. There is a regular bus service from the airport to the city, and car rental offices are open right in the arrivals hall. Moving around the city is perfectly carried out with the help of public transport, especially since it is not very easy to find a parking place in Riga, and on weekdays you will also have to pay for parking.
Housing issue
Riga hotels are as close as possible to European prices. Even for modest 2 * you will have to pay in full. The choice of a hotel not in the historical center and its maximum simplicity will help to save money. Even in such a hotel, the guest is guaranteed comfort and service, and it is always more pleasant to have breakfast or dinner in a cafe, at a table of which you can leisurely observe the life of Riga.
Argue about tastes
Riga restaurants are an example of high style and impeccable elegance. As in other tourist European capitals, there is only one rule - turn off the well-known paths and find an institution far from popular routes. There prices will be lower, portions will be larger, and coffee will be more aromatic..
Informative and fun
The Dome Cathedral and the House of Blackheads, the Powder Tower and the Three Brothers, the Lime Clock and the House of Cats: in Riga, the most important thing when walking is comfortable shoes and a charged battery for a photo and video camera. Then the family album will become a source of pride, and the memory of elegant Riga will remain not only in the heart..
Photos of the trip to Riga