Holidays in Lithuania in May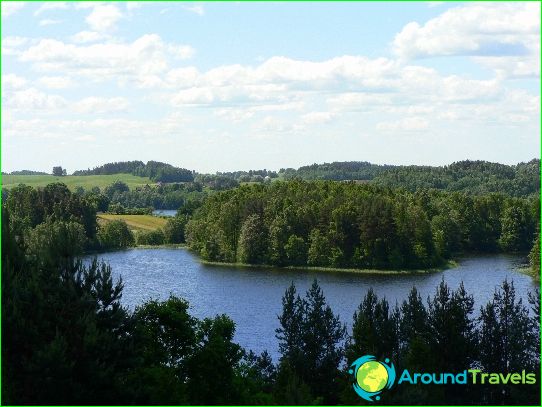 A small country - Lithuania - has managed to get four states and a piece of the Baltic Sea coast as neighbors. This brought her to the ranks of the maritime powers, allowing her to create her own fleet, as well as successfully develop the tourism business associated with recreation in the Baltic..
Experienced tourists with full knowledge of the matter claim that a vacation in Lithuania in May will be unforgettable. The high season is just beginning, there are not so many guests and the hosts warmly welcome and treat those who come to rest..
Weather in Lithuania in May
May days delight tourists with warmth and sun. It rains very rarely and ends quickly, again giving way to the sun. The air temperature is the same for Vilnius, Kaunas, Druskininkai + 18 ° C, in Palanga and Klaipeda it is colder, you can feel the cool breath of the sea.
What places in Lithuania to choose for your May holiday:
Vilnius, the capital is gorgeous at any time of the year, in May - especially, as everything around is blooming and fragrant.
Kaunas, one of the Lithuanian cities with a unique aura and numerous monuments.
Trakai with its magnificent restored and restored castle and delicious Tatar pies from numerous local restaurants (most of them, by the way, are Tatars).
Tourist contingent
Lithuania is trying to organize recreation for all categories of holidaymakers. Children are happy to go to summer camps, where a large cultural and educational program has been developed.
Families most often take sightseeing tours of Lithuanian cities and nature reserves. Men's companies are setting themselves up for hunting and fishing, including sea fishing. Many organizations have already introduced corporate trips into the tradition, for example, on the May holidays. They pass merrily, brightly and imperceptibly quickly.
Holidays
Like its neighbors, Lithuania kicks off May with the celebration of Workers' Day. Traditionally, on this day, workers try to work as little as possible, but, on the contrary, to rest and have fun..
Another May holiday in Lithuania is not tied to a date, but is traditionally celebrated on the first Sunday of the last month of spring - Mother's Day. You can see the love and tenderness with which Lithuanian children prepare gifts, souvenirs, concerts for their mothers.
Theater festival
May in Lithuania will delight lovers of performing arts. In the capital of the state, Vilnius, actors who have come to participate in the Festival of Live Theaters are greeted at the highest level. Being on one or another part of the stage, everyone becomes participants in a magical theatrical performance.
Vacation photos in Lithuania