Malaysian cuisine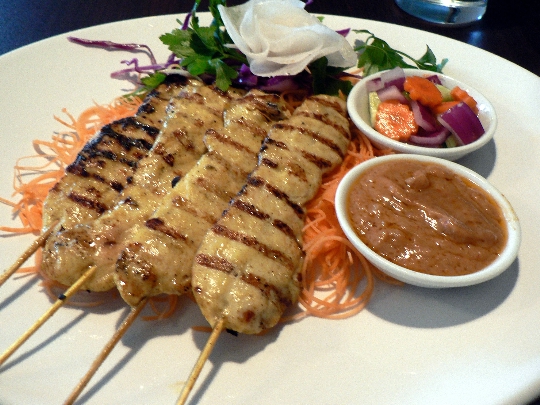 Malaysian cuisine is an interweaving of gastronomic traditions of China, Thailand, India and other countries..
National cuisine of Malaysia
There is always rice on the local table - unleavened, stewed with coconut milk, mixed with bananas and other fruits, fried with vegetables and spices. In addition, rice is used to make noodles, chips, puddings, and baked goods. In Malaysia, fish and seafood are often cooked: for example, here they often enjoy cuttlefish salads, shark fin soups, fish curries "nasi kandar". Lemongrass, lime leaves and juice are added to the sauces for meat and fish with a sharp citrus taste, and in general, to obtain a unique taste, the dishes are supplemented with mint, ginger root, cilantro, turmeric..
Popular Malaysian dishes:
"laxa" (spicy soup based on coconut milk, thick broth, shrimp, fish, chicken, tofu, noodles, curry);
"rendang" (a dish of buffalo, lamb or chicken marinated in a spicy curry mixture and then stewed in coconut milk);
"char kuway tau" (a dish of fried rice noodles, eggs, soy sprouts, shrimp, dry-cured sausage, chili with butter and soy sauce);
"gado gado" (salad based on soy sprouts, bamboo shoots, peanut sauce, hot peppers and coconut milk);
"ecor" (spicy buffalo tail soup);
"murtabac" (pancakes with meat filling).
Where to try Malaysian cuisine?
Since Malaysia is a Muslim country, it is not possible to find pork dishes and alcoholic beverages in all eateries. To save money, you can eat at food courts or street stalls (for mere pennies you can get exotic food). If you decide to visit an expensive restaurant, keep in mind that there, as a rule, a tip of 10% is included in the bill..
In order to satisfy hunger in Kuala Lumpur, you can look into "Saloma" (here guests are treated to Asian, in particular Malaysian dishes, as well as entertained with dances of the peoples of Malaysia and shows with the participation of a professional acting group), in Penang - in "Cafe ping hooi" (the best char kuway tau is prepared here, and here fried duck eggs are added to it).
Cooking classes in Malaysia
If you want to cook traditional Malaysian cuisine, you will be able to fulfill your plans at La Zat Malasian Cooking Class (Kuala Lumpur): culinary workshops are held here daily from Monday to Saturday in the morning (the language of instruction is English), in which visitors are taught to cook 3 dishes
It makes sense to visit Malaysia during the Malaysia Gourmet Festival (Kuala Lumpur, October).
Photos