Transportation in Kuala Lumpur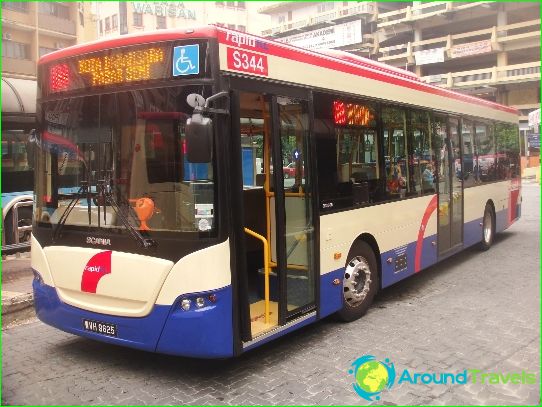 Kuala Lumpur has a developed public transport system, which consists of buses, metro, monorail, taxis.
How to pay transport fares
Kuala Lumpur has a RapidKL system that allows you to buy general tickets for various types of public transport, with the exception of the monorail and commuter trains..
The tickets are known as Touch n'Go. They are smart cards, which must be topped up with a certain amount. The smart card in use can be «bind» any travel ticket. Touch n'Go operates on various types of public transport, with the exception of MetroBus. The ticket employs a system that automatically deducts the minimum possible amount every day..
A well-thought-out payment system turns out to be extremely convenient for most locals and tourists.
Buses
There are currently 165 bus routes in Kuala Lumpur that connect different districts and suburbs. Each vehicle is equipped with air conditioning, which creates the most comfortable conditions for passengers. On buses, you can use the Touch n'Go card or buy a ticket from the driver.
HopOnHopOff buses are specially for tourists. This route was created especially for tourists, because it allows you to see all the most famous city sights. Buses run every day from 8.30 to 20.30, and the interval is 20 - 30 minutes. Passengers can use a free city map, audio guide, wi-fi.
The possibility of multiple use of the ticket should be noted. Thus, you can get up at any stop you like, enjoy the views and take pictures, and then continue the trip. Tickets can be bought at the travel agency office, hotel or on the bus, but the validity period is exactly 24 or 48 hours. Children under five years old can ride the HopOnHopOff buses for free.
Metro

LRT is a surface light metro that includes three lines: the red line is called Kelana Jaya, the orange line Ampang, which has a fork.
KL Monorail - this metro is a monorail, consists of one line. Trains run through the central part of Kuala Lumpur, covering the Golden Triangle. All people who prefer KL Monorail can enjoy great views of the attractions.
KTM Komuter - city trains run through the whole of Kuala Lumpur. The interval in the morning and in the evening is 15 minutes, in the daytime - 20 - 30 minutes. Tickets can be bought at ticket offices, vending machines. Trains run from 5.30 a.m. to about 10 p.m..

Taxi
Transport in Kuala Lumpur is also represented by a taxi, which is distinguished by affordable prices and ease of hiring, fast speed. Most vehicles only operate over short distances. For long distances, special minibuses should be used without a taximeter, as a result of which the price must be negotiated in advance.
Photos