Shopping in Malaysia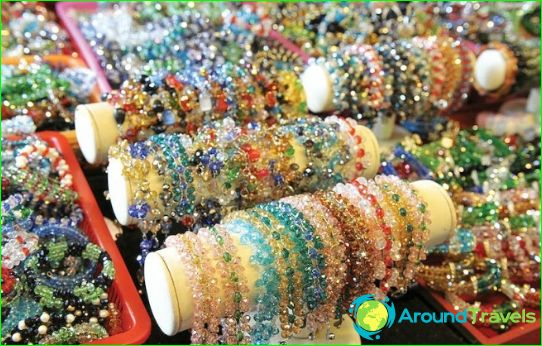 Shopping will be a great addition to your vacation in Malaysia. Shopping can be done in huge shopping malls, bazaars, hawkers, night bazaars, hotel shops and duty-free shops.
Popular shopping
If you want to bring souvenirs, then tourists are usually offered: kites, batik, brocade - gold and silver, wooden products, pewter dishes, fine copper products - napkin clips, cutlery, vases, dishes, etc..
You can buy tin products with a metal content of 97% both on the market or in a shop, as well as at the factories "Penang Pewter", "Tumasek Pewter" and "Selangor Pewter" - some of the best manufacturers of pewter dishes. There you will be offered tea and coffee sets, cups, cutlery, vases and beer mugs - there are plenty to choose from.
Malay gold is in demand, products made of it are of high quality, of an interesting design with a fineness of gold - 20 and 24. You can buy jewelry in the traditional style, and new items. Naturally, buy in stores where they give a check indicating the weight and sample of the product. Do not pass by silverware - in the suburb of Kota Bharu, in Kampong Sireng, you can see how craftsmen work, buy ready-made jewelry or order something individually. The choice is rich - vases, rings, earrings, bracelets, necklaces are sold here cheaper, at the manufacturer's price.
At the Andycraft Complex Jalan Conlay factory you can buy batik - scarves, blouses, dresses, paintings, and you can see the process of making fabric - repeated hand-waxing and dyeing.
For wooden furniture and antiques you need to go to Malacca.
For ceramics, wines and handicrafts, it is better to go to Johor; there are also shopping centers Bazaars, Kotaraya Plaza, Tun Abdul Razak Complex..
You will not find inexpensive electronics made in Malaysia, it is all exported. But there are many Japanese and Chinese goods. Does it make sense to buy them without the ability to apply for a guarantee - it's up to you.
Popular retail outlets

In Kuala Lumpur, the most popular shopping center is Suria Kuala Lumpur City Center, located in the twin towers. The brands Burberry, Bally, Coach, Naf Naf, Dewi Moon, Zara, Armani Exchange, Mango Moschino are represented here in sufficient quantity. Prices are higher than in Europe. Sales - from November to January and from March to April, discounts from 30 to 70%.
Large shopping centers KL Plaza, Low Yat Plaza, Pavilion, StarHill Gallery, Sungei Wang Plaza, Lot 10 will offer you goods from Diane Von Furstenberg, Juicy Couture, Jaspal, Mooks, Giordano Ladies. The pricing policy is the same. You can look for good clothes in the markets, but there may be difficulties with sizes - things from China, India, Thailand are designed for the size of local residents. Manufactured locally produced clothing is sold in the Metrojaya chain stores located in malls.
Duty free zones are the islands of Labuan and Langkawi. In Langkawi Oriental Village you will find 470 brands and 17 products. Duty free zones are also available at airports, Kaula Lumpur and Penang Island..
Pictures of Malaysian goods, shops and markets