Maldives prices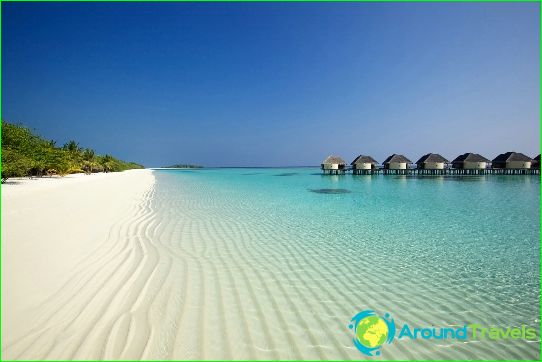 Prices in the Maldives are quite high.
When paying for services and goods in the Maldives, preference is given to US dollars (payment can be made both in cash and bank cards, such as MasterCard, Visa, American Express).
Shopping and souvenirs
There are no large shopping centers in the Maldives, but small souvenir shops are open on each island. In Male, you can find the Singapore Bazaar. In addition, you can purchase a variety of gifts in small craft villages..
Important: shops are not bargained for, and local merchants do not reduce prices.
What to bring from Maldives?
- national dresses, wood products (figurines, vases), reed mats, products from coconut, mother of pearl and turtle shell, shark teeth, jewelry boxes with original ornaments, silver jewelry;
- cosmetics for body and hair with coconut oil.
The approximate cost of souvenir products: traditional lacquered wooden dishes can be purchased for $ 20-300, vacuum-packed smoked fish - $ 6-10 / 1kg, miniature copies of doni boats - $ 30-500, coral decorations - $ 30-700 , jewelry made from shark teeth - $ 10-150, Maldivian hookah - $ 25-50, souvenirs from a coconut shell - $ 1-250, T-shirts with Maldives symbols - $ 20-30.
Tours
A sightseeing tour of Male will allow you to admire the historical monuments. In addition, you will visit the National Museum, Sultan Park with tropical flowers, fish and vegetable markets..
An excursion costs $ 35-50 on average.
Going on a tour of the Maldives, you will be taken to a fishing village and to some uninhabited island (at your service - diving or snorkeling).
The approximate cost of a half-day excursion is $ 30-35 (the price includes a barbecue lunch).
Entertainment
For fishing lovers in the Maldives, morning and evening fishing trips are organized, lasting 2-3 hours.
The cost of entertainment is $ 20-30 (this price includes lunch or barbecue dinner from the catch you catch).
Transport
To travel from island to island, you can use a helicopter, seaplane or boat. For example, by boat "doni" you can cross from island to island in 1.5-2 hours.
There are regular doni flights between the airport on the island of Halule and the capital Male (1 trip costs about $ 1.5).
As for overland movement, motorcycles and bicycles will come to your aid, and cars are available only in the capital (you can get around Male by taxi: 1 trip costs about $ 1).
If you purchase an all-inclusive tour to the Maldives, the minimum spending on the island can be $ 40-50 per day for 1 person. If you have to spend extra money on food, then your expenses will increase at least 2 times.
Maldives - promo video

Photos